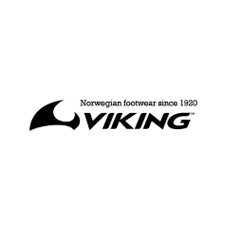 Viking Rubber Boots – Comfortable and Waterproof
We can't avoid the wet season. But even in summer you can be caught out by a downpour – and you'll be very grateful for your pair of Viking rubber boots. Stylish, comfortable, waterproof and above all durable, Viking boots are designed to be breathable. Stand up to any bad weather by choosing the right footwear now.
Read more
About Viking Shoes
The company emerged from a Norwegian rubber factory that produced overshoes and car tires in the 1920s. Since 1992, Viking has been a partner of Gore-Tex, which stands for particularly robust and breathable outdoor clothing as well as high-quality shoes. Viking not only offers rubber boots, but also fashionable low-top shoes, sandals and boots in a sporty style, often with breathable soles and with textile mesh in the upper. Viking shoes are known for their durable, high-quality weather shoes and breathable sandals.
Viking Wellies for Children
Wellies made of natural rubber with width adjustment on the shaft are very practical, especially when it comes to wellies for children. The Mira Jr model is a great example. Thanks to the profiled outsole, your little one feels safe and secure, even when running. The neutral black colour fits perfectly with any outfit. If you're after a more colourful option, try the Viking Drape wellies for children, available in an attractive coral colour. These cute boots have an attractive pattern that's perfect for younger children.
Viking Rubber Boots for Women
The yellow 13 Viking Gyda Ladies rubber boots immediately draw attention with their vibrant yellow colour. The rubber insert on the side ensures that the upper is stretchable, making the shoe very malleable. The dark brown insert on the side pairs well with jeans, or trousers to complete your look. They are also easy to put on and take off. The design is also available in black for those who like something a little more subtle.
Viking Rubber Boots for Men
Are you looking for a pair of Viking rubber boots for men? Look no further than the Seilas rubber boots. These boots are a unisex model that can be worn by both men and women. The Seilas rubber boots are made of a vegan, PVC-free material. The colour-contrasting tuck on the shaft gives this model a slightly maritime flair. The boots are available in several colours such as red, dark blue and yellow, so you can easily combine them with different outfits. The removable sole is made of a special material that ventilates quickly, avoiding lingering odours or bad smells.
Lined Viking Rubber Boots
The lined Viking rubber boots are also available as unisex products. The Alv rubber boot for children is available in a range of cheerful colours such as green, pink, yellow and fuchsia matching any colourful outfit your children might wear. The elastic shaft adapts to the thickness of the sock, while the soft lining hugs the feet and calves. This model also comes with a removable sole.
Viking Sandals
Viking sandals for children are available in a variety of colours. Whether plain or patterned – with the piping detail on the straps, they adapt well to a child's summer wardrobe, too. The Suadex are a particularly comfortable model. The straps are easily adjustable thanks to velcro fastening. The non-slip rubber sole has a wonderfully cushioning effect to ensure an optimal walking experience. The inner material is made of breathable and water-repellent textile mesh that dries in seconds, while the synthetic upper protects against summer downpours.
Deciding which pair of Viking rubber boots or shoes is right for you is entirely down to your personal taste. Rubber boots are the perfect footwear for rainy days. They're especially popular with children, who love the vibrant designs that allow them to let of steam, even in the dampest weather. There's a comfortable Viking shoe for everyone, young and old alike.