On Running Shoes for Men and Women − The Running Revolution
The story of the On Running brand all began with a pair of trainers and small pieces of garden hose that Oliver Bernhard had stuck to the soles himself. He felt like he was walking on clouds. Oliver Bernhard took these new and improved shoes to show his friends, David Allemann and Caspar Coppetti. After some successful trial runs with the prototype, the legendary On Running shoes were born and the three company founders patented their revolutionary idea as CloudTec across the globe. Run on clouds with On Running shoes.
Read more
Innovative & Unique – On Running Shoes & Clothing
Nowadays, the company is coming out on top of the competition and, in addition to their European branches, they can also be found in the USA, Japan, Brazil and Australia. The Swiss brand is far from at their end. On sells their chic On Cloud Women and On Cloud Men collections including on running jackets, pants, shirts and much more across the globe. Whether you're after the classics such as the On Running Cloud collection and On Running trainers, or adventurous trail running shoes and On Running walking boots such as the Cloud Rock − you're guaranteed to find the right men's and women's On Running shoes for you here.
What's so Special about on Running Shoes?
On Running shoes for men and women perfectly adapt to your foot. Made up of three-dimensional, flexible foam sections, the sole of On Cloud shoes provides an indescribable running experience, as if you were running on clouds, and spurs you on to outstanding workout results and competition wins. The foam cushioning provides your foot with optimal protection, adapts to your running style as you place your foot down and can help activate your muscles. On Running shoes can therefore minimise the risk of injury and ensure faster recovery after sport.
Sore muscles? No chance! Studies have found that runners wearing On Cloud shoes had lower amounts of lactate in their blood than runners who were out and about without the patented technology. This way, athletes will be immediately ready for their next challenge after just a short recovery period. If you do sport as a hobby rather than a profession, then On Running has suitable shoes and On Running clothing for men and women for you too, such as On Running hiking boots and On Running trainers.
On Cloud – On Running Shoes for Women
Experience freedom without limits during your workouts with On Cloud shoes for women. For shorter runs, you can rely on the On Running Cloud X shoes for women, made of woven fabric. They promote the natural roll of your foot on tarmac and other hard surfaces, and help you to set new top speeds. Are longer distances more your thing? Then On Running Cloudflow shoes are the ones for you.
You can tackle adventurous trails with the On Running Waterproof trainers for women, Cloudventure or Cloudridge, and if you're still unsure on which direction you want to go in, why not choose the all-rounder On Cloud? No matter what model of shoe you opt for, slip on some On Running shoes for women to get motivated and get training. If you're in search of some shoes to accompany you day in day out, then take a look at On Running trainers.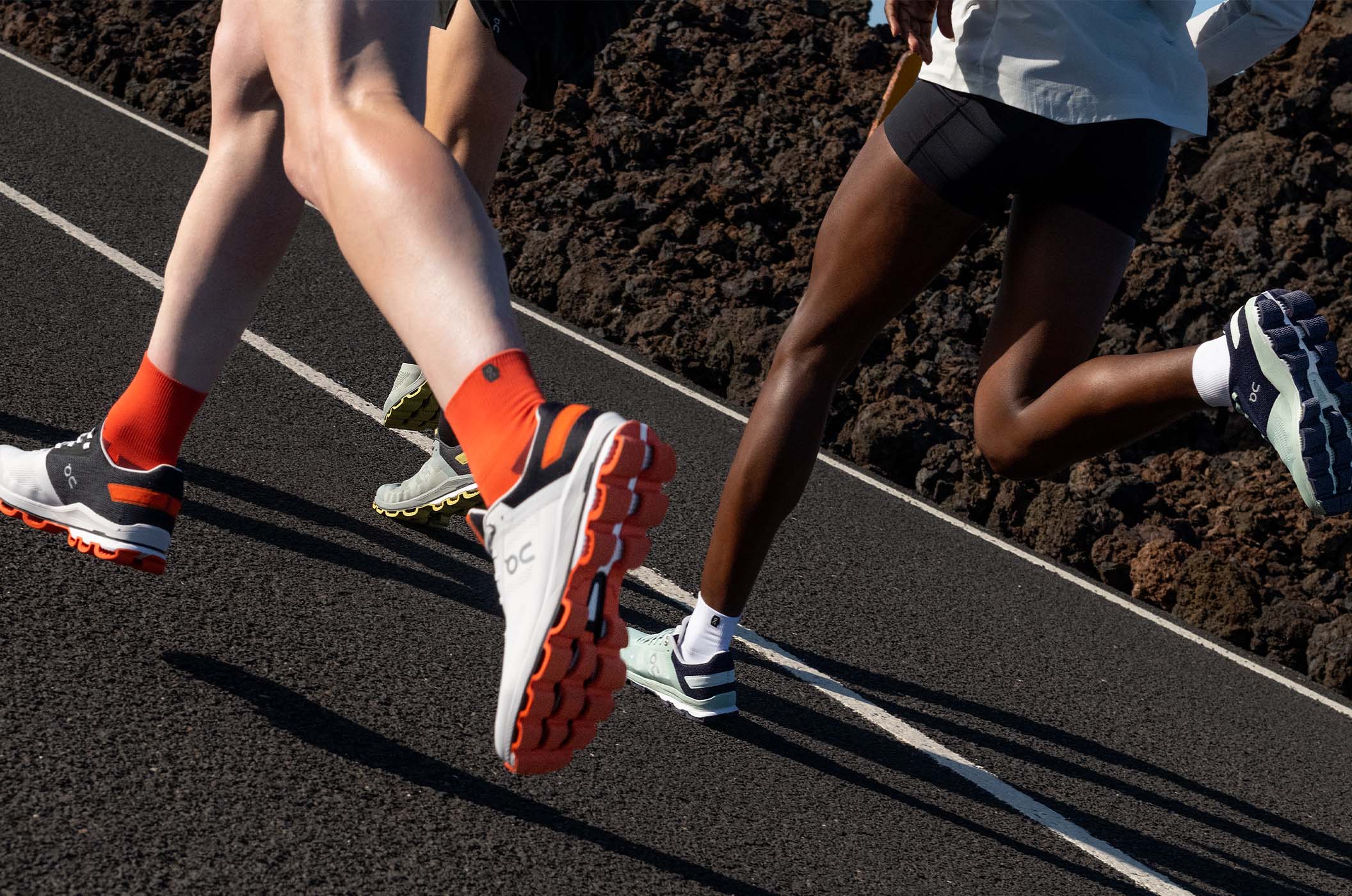 On Cloud – On Running Shoes for Men
Slip on some On Running shoes to achieve your best performance when training, as well as in competition. For runners with a heavier foot, the Cloudstratus distributes weight evenly: this On Running shoe is perfect for marathons or half marathons, as well as for short training runs. You can cover long distances on harder surfaces such as tarmac with the Cloudflyer. This On Running men's shoe is also suitable for any athlete who requires a wider design and it supports your deep muscles when landing and pushing off.
The On Cloudsurfer is your perfect companion at high speeds. These On shoes are particularly robust and responsive − ideal for challenging conditions. And if you prefer shorter runs and combined workouts, you'll hit the jackpot with the Cloud X for men.