Wahoo Bike Computers, Turbo Trainers & More
Since its foundation in 2009 Wahoo has succeeded in "wahooing" the hearts of cyclists with innovation and precision. No matter whether in a professional peloton or at home in the garage. Smart Wahoo smart bikes, the functional and aerodynamic Wahoo bike computers and accurate cadence, speed and heart rate monitors make training more effective and more fun. It doesn't matter whether you are accelerating on the road, on the trail or virtually in front of the screen. Wahoo Fitness is always there.
Read more
Wahoo Fitness – A Steep Ascent With and On the Bike
Wahoo Fitness has taken the cycling world by storm. Founded in 2009 in Atlanta, Georgia, the Wahoo smart bike trainers, aerodynamic GPS bike computers and the innovative Wahoo accessories can be found in countless living rooms and on most streets around the world. The realistic riding experience of the Wahoo KICKR turbo trainer (direct-drive) and the KICKR BIKE smart trainer imitate riding outdoors better than ever before, and together with the KICKR CLIMB mountain simulator and the KICKR HEADWIND smart fan, provide motivation every day to give full throttle indoors as well. Both indoors and outdoors the intuitive ELEMNT GPS bike computer and the Wahoo ELEMNT Rival stopwatch ensure perfect connectivity, navigation, performance measurement and an overview in a modern, streamlined design. The precise Wahoo heart rate monitor and the speed and cadence sensors make you more efficient in real-time and fast training progress more likely. So that training successes can also be seen in the race and your time is improved, Wahoo Fitness offers you the first-class SPEEDPLAY and POWERLINK system pedals. These innovative pedals are individually designed so that you maintain your optimal sitting position and achieve the best cadence.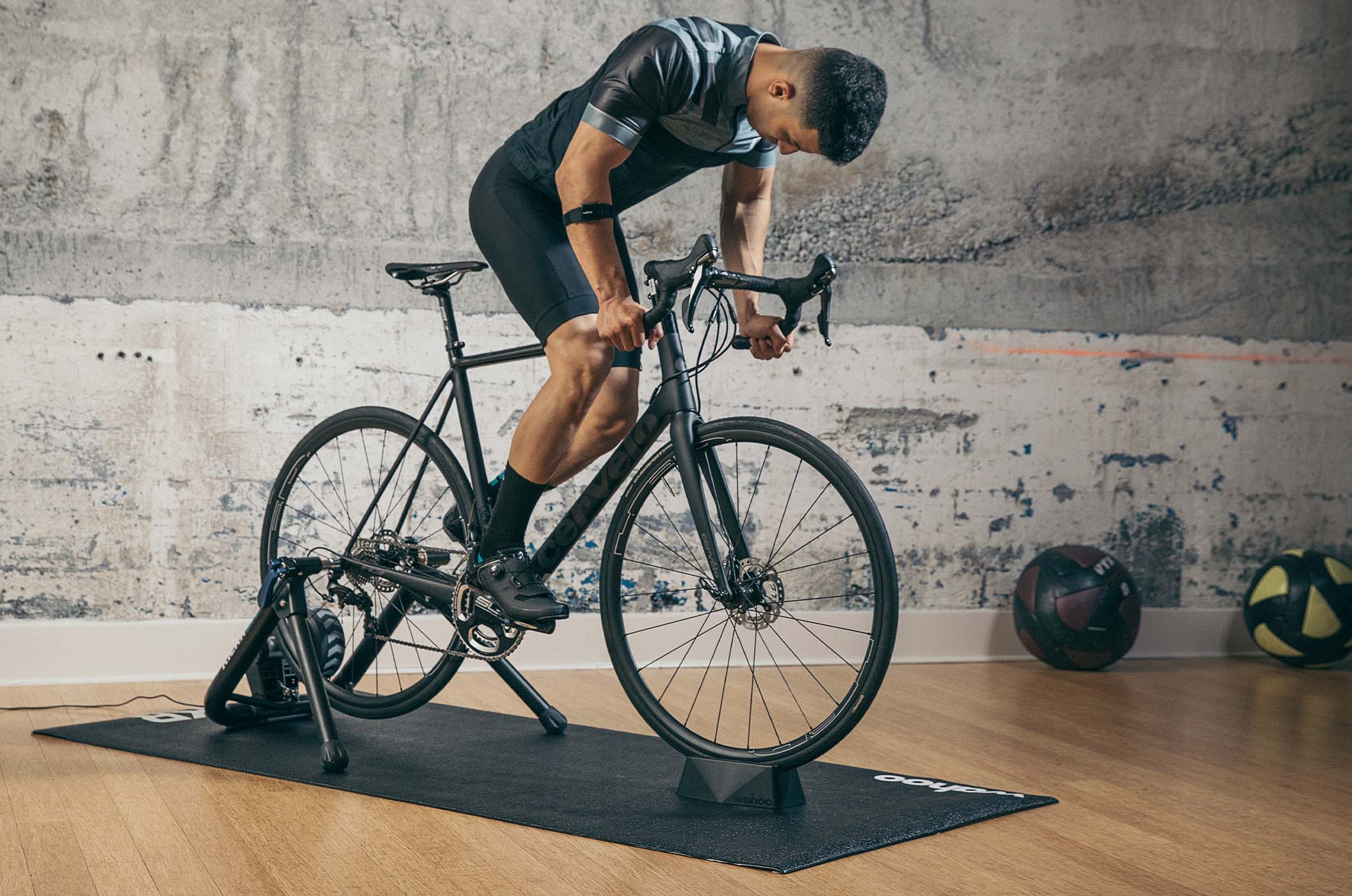 KICKR – Smart Wahoo Turbo Trainers and Smart Bikes
The KICKR BIKE is the ultimate training machine and combines the most innovative technologies from Wahoo Fitness into an experience that blurs the boundaries between simulation and reality. A large fly wheel, an internal motor brake, resistance of more than 2200 Watts, an almost silent belt-driven motor and the most robust materials allow you to give it all you've got. The integrated uphill and downhill simulations make every virtual ride a real experience. Torture yourself in the living room on the legendary climbs of the Alps and the Pyrenees and be rewarded with descents that keep your speed up. The KICKR BIKE can be programmed to all popular gear systems and adapted to the geometry of your favourite bike and offers a unique blend of precision, responsiveness and a realistic riding experience.
The only sounds you'll hear on the Wahoo KICKR indoor bikes during your workout are your breath and the smooth gears on the pre-installed cassette. Thanks to the automatic calibration the KICKR always measures your performance with incredible precision (+/- 1 %) and automatically adjusts the resistance to gradients of up to 20 %. Tying-in with your favourite app and the ANT+ as well as up to three Bluetooth connection simultaneously, you can go on indoor tours without any worries.
The KICKR CORE offers incredible value for money and lives up to its fabled namesake – the KICKR BIKE. You can look forward to an indoor training session as quiet as it is precise and realistic. Modern algorithms and integrated cadence measurement taken from the KICKR and the proven fly wheel technology (5.5 kg), compatibility with all standard cassettes and simulations of incline changes up to 16 %. The KICKR CORE takes part in all virtual adventures and the most intensive training sessions.
With the KICKR SNAP smart bike from Wahoo, even new cycle enthusiasts can enjoy the prize-winning KICKR technologies. Thanks to the practical Wheel-On design, it's child's play to convert your road bike, mountain bike or triathlon bike into a versatile indoor bike. Via your smartphone, notebook or GPS bike computer you can adjust the resistance at any time and measure and track your performance data.
For even more fun, variety and an authentic riding experience you can extend your smart indoor bike or bike trainer with innovative Wahoo accessories such as the KICKR CLIMB mountain simulator, the HEADWIND smart ventilator or the Bike Desk. So, off to the training mat and up the mountain! And if you still want to finish writing a few emails and warm up in the process, you can do so comfortably at the Wahoo Fitness Bike Desk.
ELEMNT – Wahoo Cycling Computer
The versatile sensors, wristbands and Wahoo heart-rate belts are always reliable and guarantee the highest level of precision, and can perfectly extend your bike trainer and cycling computer. With the comfortable Wahoo TICKR heart rate monitor you can always keep an eye on your heart rate and calorie consumption. It can quite simply be linked to all standard devices. If you prefer to have the visual heart rate measurement on your wrist, then the adjustable, waterproof TICKR FIT wristband with its battery run-time of up to 30 hours is a superb choice.
The RPM speed and cadence sensors from Wahoo promise wireless recording of accurate data during your ride. The lot in a discreet design, combined with Dual-Band technology which ensures trouble-free synchronisation with your favourite app or your GPS bike computer.
POWERLINK & SPEEDPLAY – Wahoo Power Pedals & Accessories
The two-sided SPEEDPLAY road and triathlon bike system pedals from Wahoo offer the greatest efficiency and comfort. The free turning movement adapted to the individual pedal dynamics and the tread maximization ensure a perfect sitting position and let you and your bike become one. In a feather-light NANO version with titanium axle, SPEEDPLAY pedals bring you to the front in a race. Extremely robust and with first-class transmission the ZERO pedal with stainless steel axle ensures trailblazing results. SPEEDPLAY COMP is suitable for both amateur and professional cyclists and has a chrome axle. The AERO pedal with its stainless steel axle has a streamlined design for quick times. Based on the innovative SPEEDPLAY range, the Wahoo power meter POWRLINK ZERO always provides you with reliable performance data for a comprehensive overview of your training progress.