Shimano Groupsets & Accessories – Bicycle Equipment from the Market Leader
The most important component in cycling: you! Everything else you need can be found at Shimano, trailblazers when it comes to bike parts. Whether it's Shimano gears, brakes, wheels, cassettes or cycle clothing & shoes, at Shimano you'll find high-quality parts and accessories for road bikes, mountain bikes, city bikes, gravel bikes, trekking bikes and e-bikes.
Read more
Shimano Groupsets – Quality, Reliability & Performance
Passion for cycling is unlike anything else, and in order to be able to enjoy your passion to the full, you need components and equipment that you can put your 100 percent trust in at all times. Shimano has made a name for itself worldwide as a leader in technology when it comes to gears, brakes, pedals, shoes and many other cycling products. The Japanese company has always represented quality, reliability and performance. What's more, with system integration as their core philosophy, Shimano offers concrete, practical advantages by making sure every single part is coordinated with all the others, including parts subject to wear and tear. Shimano components are designed for people who love the outdoors, no matter where in the world.
Shimano Pedals, Brakes & Gears: Components from the Engineers of the MTB Groupset
Riding thrills without compromises, in every scenario – that's what Shimano MTB components are for, from Shimano brakes, gear shifters, cranks and Shimano rear derailleurs through to Shimano clipless pedals and so on and so forth. And they cover the whole MTB spectrum, from trail and cross-country to all mountain, downhill, freeride and leisure. No matter what you're into, Shimano has got you covered. The company engineered the world's first specific MTB derailleur back in 1982. More than three decades later, the electronic Shimano Di2 was introduced, a tried-and-tested system in the road bike sector and just a few years after, Shimano was the first manufacturer to launch an electronic MTB groupset, the world's first electronic mountain bike shifting system (Di2). Shimano's experience and precision are reflected not only in their top groupsets XTR, Deore XT and SLX, but also in all Shimano components, from Shimano groupsets and Shimano hydraulic brakes to Shimano chains, Shimano brake pads and the range of Shimano spare parts. Behind this lie decades of research, with all components perfectly adapted to each other. As a result, even their mid-range groupsets, such as the Alivio, Acera, Altus and Tourney, provide off-road thrills and performance beyond compare.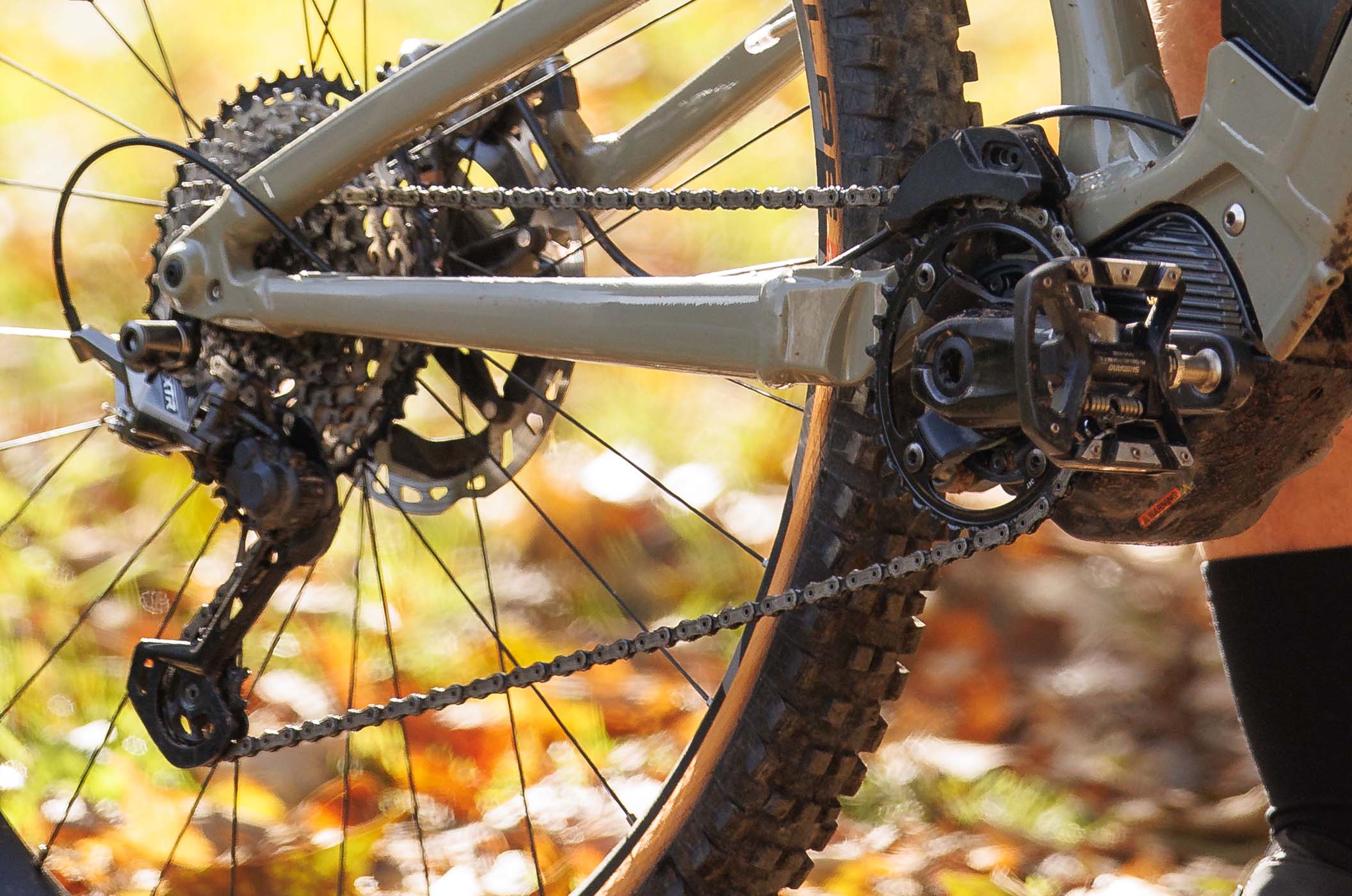 Shimano Road & Gravel Bike Components – Perfectly in Tune
It's no longer just about going as fast as possible. The needs and demands of road cyclists are much more sophisticated these days. The top Shimano groupsets DURA-ACE, ULTEGRA and 105 provide high levels of comfort, user-friendliness and versatility when racing, training or riding for leisure, so you can get your riding thrills whilst also hitting your individual targets. The gravel components in the Shimano GRX series are Shimano's solution for any cyclist looking for an efficient, stable off-road ride. Focus your full attention on the pure enjoyment of riding with smooth, precise Shimano gears, loss-free drive systems and reliable brakes, Shimano brake discs and Shimano disc brake pads. Race-minded professionals, ambitious beginners and casual cyclists alike are sure to find the right Shimano road bike parts from among the top groupsets mentioned, or the Tiagra, SORA or Claris ranges. Shimano - reliable performance and ultimate riding thrills for all cyclists, without limits.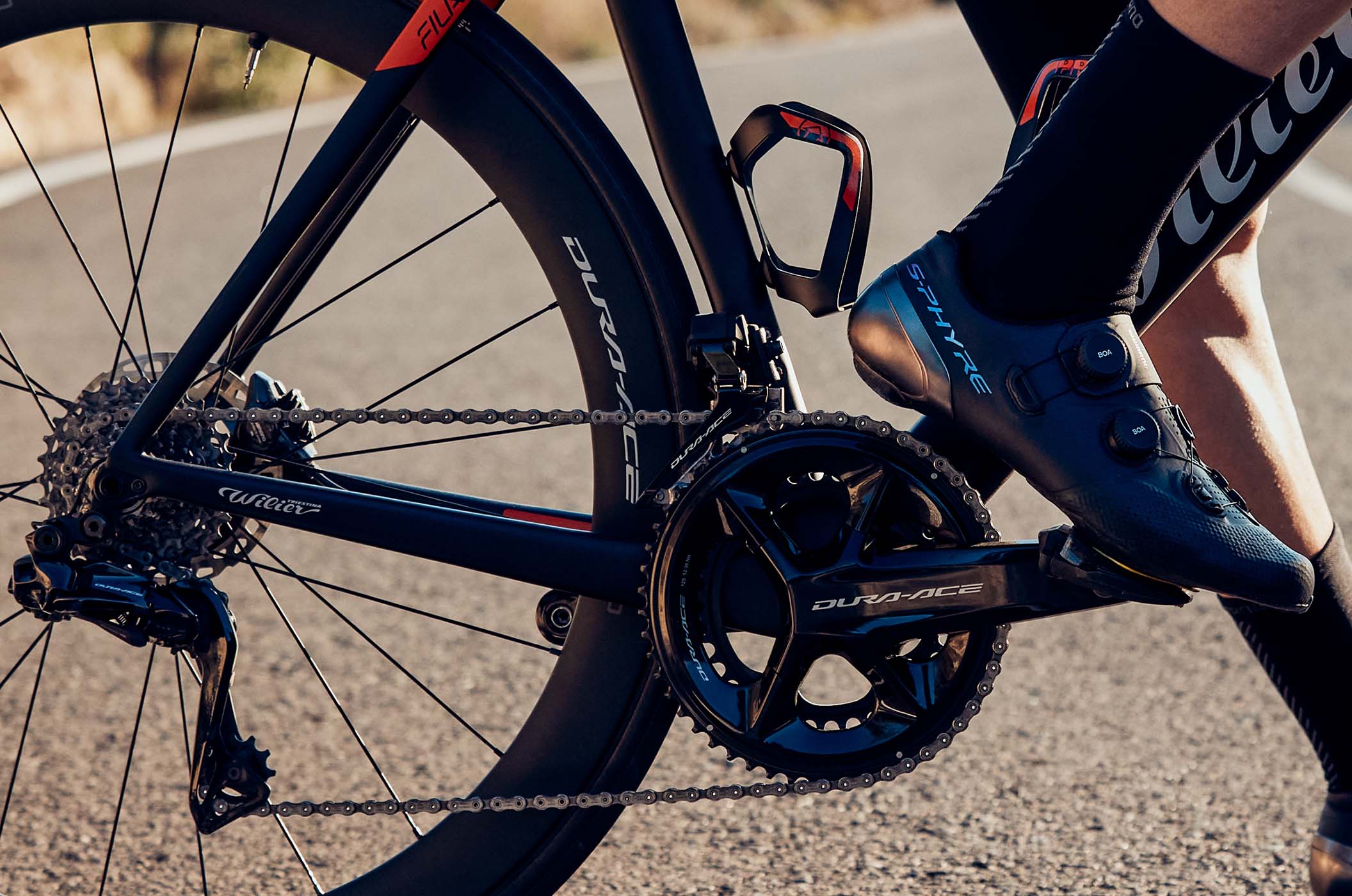 Shimano Dura-Ace Di2, Ultegra Di2 & 105 Di2: Performance Meets Enjoyment
You'll be set for even more fun when you hop on the saddle with the electronic Shimano Dura-Ace, Ultegra and 105 road bike groupsets, thanks to some ergonomic improvements and a 12-speed upgrade. The Hyperglide+ drivetrain was inspired by the brand's 12-speed MTB groupsets and is able to intelligently and dynamically determine the optimal moment to change gear. The result: more precise shifting that's up to 50% faster compared to its predecessor. The new Shimano groupsets also set themselves apart thanks to their excellent battery life: you can go up to 1000 kilometres on just one battery charge, and there are even LEDs on the control lever to inform you how much charge your battery has left. You can also set up your shifting system using the associated app and exploit the full potential of your groupset. For example, you can set things up so that a specific control lever is responsible for shifting both your Shimano front and rear derailleurs up a gear. With the Shimano Dura-Ace, Shimano Ultegra and Shimano 105 road bike groupsets, there's no such thing as compromise. For more information on Shimano Di2 electronic technology and any other technology in Shimano components, visit bike.shimano.com.
Even More Biking Fun – Shimano STePS E-Bike Drives
Put in less effort on long or steep roads and trails and get out more enjoyment. Shimano STePS provides mountain bikers, touring cyclists, commuters and city/trekking bikers with a wide range of e-bike drives and components for a variety of uses. The high-end E8000 series is perfect for any off-road adventure across alpine terrain. The powerful yet quiet system is suitable for use both on and off-road. For lovers of city and trekking bikes, the drive unit in the E6000 series provides quiet assistance with pedalling resistance that's barely noticeable, meaning less sweat and more enjoyment!
Shimano EP8 E-Bike System – More Compact, Lightweight & Powerful Than Ever Before
Shimano EP8 is the name of the new flagship among Shimano's e-bike systems for MTB and trekking. With a maximum torque of 85Nm, the weight-optimised successor to the Shimano E8000 series reaches new heights when it comes to performance. And that's not all: Shimano has made the pedalling of the EP8 noticeably more responsive and completely revised the trail mode. The result: an even smoother riding experience with less drag and optimum control in every situation. Last but not least, the EP8 also sets new standards in terms of connectivity and configuration. You can use the E-TUBE PROJECT app to adjust an array of different settings on your e-bike so that it meets your exact needs.
Shimano Clothing, Shoes & Accessories – Give Yourself an Edge from All Angles
Shimano cycling clothing, equipment and innovative Shimano cycling shoes in combination with Shimano spd pedals are designed to integrate seamlessly into your riding set-up. The well-known Shimano solutions developed as part of the system as a whole come into play to maximise riding performance here too. Attention to detail that makes every pair of gloves and every jacket a perfect fit for your body and your needs. Whether you need it for your commute, long distances in the saddle or a short speed session on the mountain, your apparel , just like your components, should be functional, efficient and comfortable. And for those who take their riding to the absolute limit, Shimano has designed the S-PHYRE series. A technically so advanced, innovative and high in quality series of Shimano shoes, bib shorts, race jerseys that even the smallest piece will give an edge to your performance. Go Shimano, and Shimano will take you everywhere.