ASSOS Cycling Clothing and Accessories from Switzerland
For more than 45 years now, ASSOS has been setting the standard in cycling clothing, designed for performance, no corners cut. ASSOS cycling clothing for men and women is based around the ASSOS Layering System, known as "ALS": all their items are coordinated to perfection, from ASSOS bib shorts to the brand's rain jacket, ensuring the ultimate cycling experience in every season. From professionals to passionate amateurs, anyone and everyone can enjoy the highest quality and comfort with ASSOS.
Read more
ASSOS Cycling Clothing – High-Quality Cycling Gear since 1976
ASSOS, a company of great tradition, was founded by Toni Maier-Moussa in the Swiss canton of Ticino back in 1976, with the mission of providing road cyclists facing the toughest challenges with cycling clothing that meets the highest standards in terms of quality, comfort and functionality.
The ASSOS collection is centred around the ASSOS Layering System, known as "ALS", a technically innovative clothing concept. All their items – including ASSOS cycling jerseys, jackets, cycling shorts and gilets, as well as accessories such as arm and leg warmers and socks - are perfectly tailored to each other, fitting together like pieces in a jigsaw and providing the consummate combination for achieving the optimum level of protection and comfort in every season.
#FASTGETSFASTER – The ASSOS S9 Clothing Collection
In 2013, the S7 generation of cycling shorts finally replaced the tried-and-tested models in the S5 collection after six years, introducing the most comfortable bike shorts, such as the T.campionissimo_s7, and outshining everything that had gone before. How could ASSOS cycling shorts get any better? But thanks to the Swiss man's relentless drive for continuous improvement and his passion for racing, the S9 generation was born in 2019. The ASSOS bib shorts in the S9 series are designed for support through and through, with every thread, every structure and every piece of technology in the S7 series renewed and improved. A cyclist is constantly repositioning their body when riding round sharp bends, in the saddle or standing, making millions of pedal revolutions - a huge strain on their cycling shorts and seat pad. For this very reason, ASSOS has taken an entirely new approach to their S9 cycling shorts:
first of all, there's the "butterfly panel", a revolutionary new cut and seam construction that completely encloses the legs and effectively frames the seat pad. The result? Cycling shorts with more stability and comfort achieved through significantly fewer seams. Second of all, ASSOS has further optimised their tried-and-tested EQUIPE EVO seat pad. A reduced surface area saves weight and the superAir microSchock foam offers even better breathability and air circulation thanks to the 3D waffle and kraterCooler.
EQUIPE S9 – ASSOS Bib Shorts in a Class of Their Own
The EQUIPE RS bib shorts in the S9 series are also kitted out with ASSOS' unique rollBar technology which enables the bib straps to act as stabilisers for the seat pad. This compensates for shifts in body and weight when cycling around bends as well as when pedalling. The bib straps are sewn directly into the hem above the seat pad so that it is kept under a comfortable amount of tension at all times. The result: ASSOS' signature comfort, but with stability like never before!
The EQUIPE RSR S9 bib shorts, however, forego this technology, as these cycling shorts focus on achieving maximum weight savings, with stability and support being entirely provided through the properties of the fabric used: the brand-new Type.701kompressor material, successor to the highly-praised S7 Campionissimo. This fabric acts like a second skin: it is incredibly thin, lightweight and practically frictionless, and it also provides optimal muscle compression.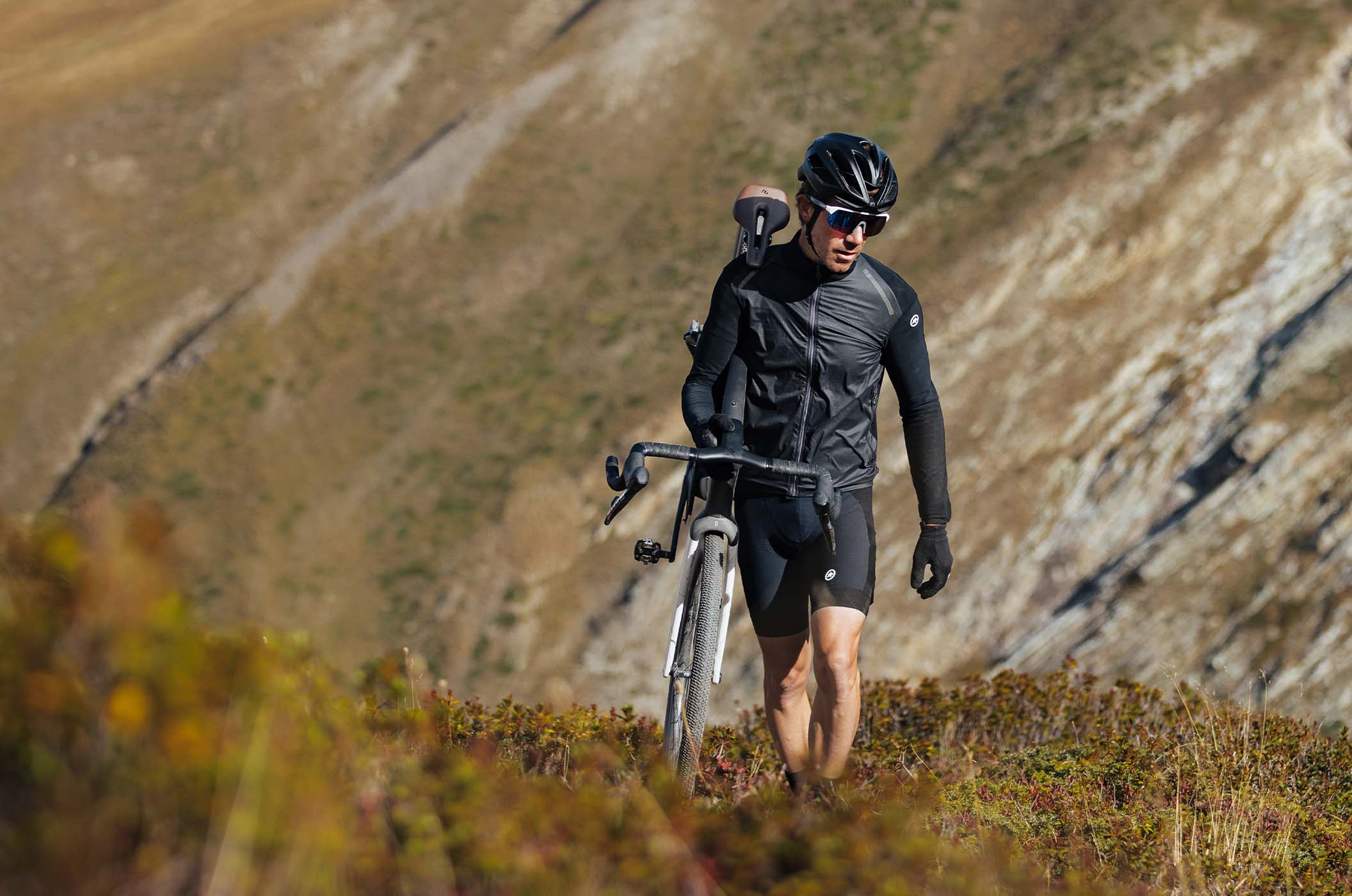 EQUIPE RS Spring/Fall Collection – Go Lighter & Faster with ASSOS Jerseys, Jackets & Bib Shorts
Even when temperatures drop, less is often more when your body needs to perform at its best. That's why ASSOS has introduced the EQUIPE RS Spring/Fall line, featuring clothing with lightweight insulation for training and competitions. Light in weight, fast and designed to be worn in multiple layers. The line includes the EQUIPE RS Spring/Fall S9 bib shorts, featuring the lightweight insulation, perfect for cooler weather conditions in spring and autumn, and ASSOS' unique rollBar technology as a matter of course.
As your core also needs protection from the wind and cold, there's also the ASSOS EQUIPE RS Spring/Fall jersey for men and women, a perfect complement to the bib shorts in the series. Here, too, light weight and warming properties have top priority, alongside top-class aerodynamics of course. 
The EQUIPE RS Spring/Fall aero vest goes perfectly over the top, a layering look ASSOS has perfected over the years. This cycling vest helps you adapt to changeable weather conditions and the complex softshell material and waterproof exterior prevent your upper body from cooling down. 
If even that is not enough on cold spring and autumn days, then the warmer EQUIPE RS Spring/Fall jacket will come up trumps: the cold doesn't stand a chance against this ASSOS wind jacket. The "valves" on the front of the shoulders mean it is perfectly adapted for wearing in combination with the ASSOS EQUIPE RS Spring/Fall aero jersey. They draw cool air in from outside to inside, distributing it between the jersey's fabric layers and creating a pleasant cooling effect, as opening your zip isn't always an option.
Don the ASSOS road cycling clothing from the EQUIPE RS Spring/Fall collection and you'll be perfectly prepared for anything in the cooler seasons.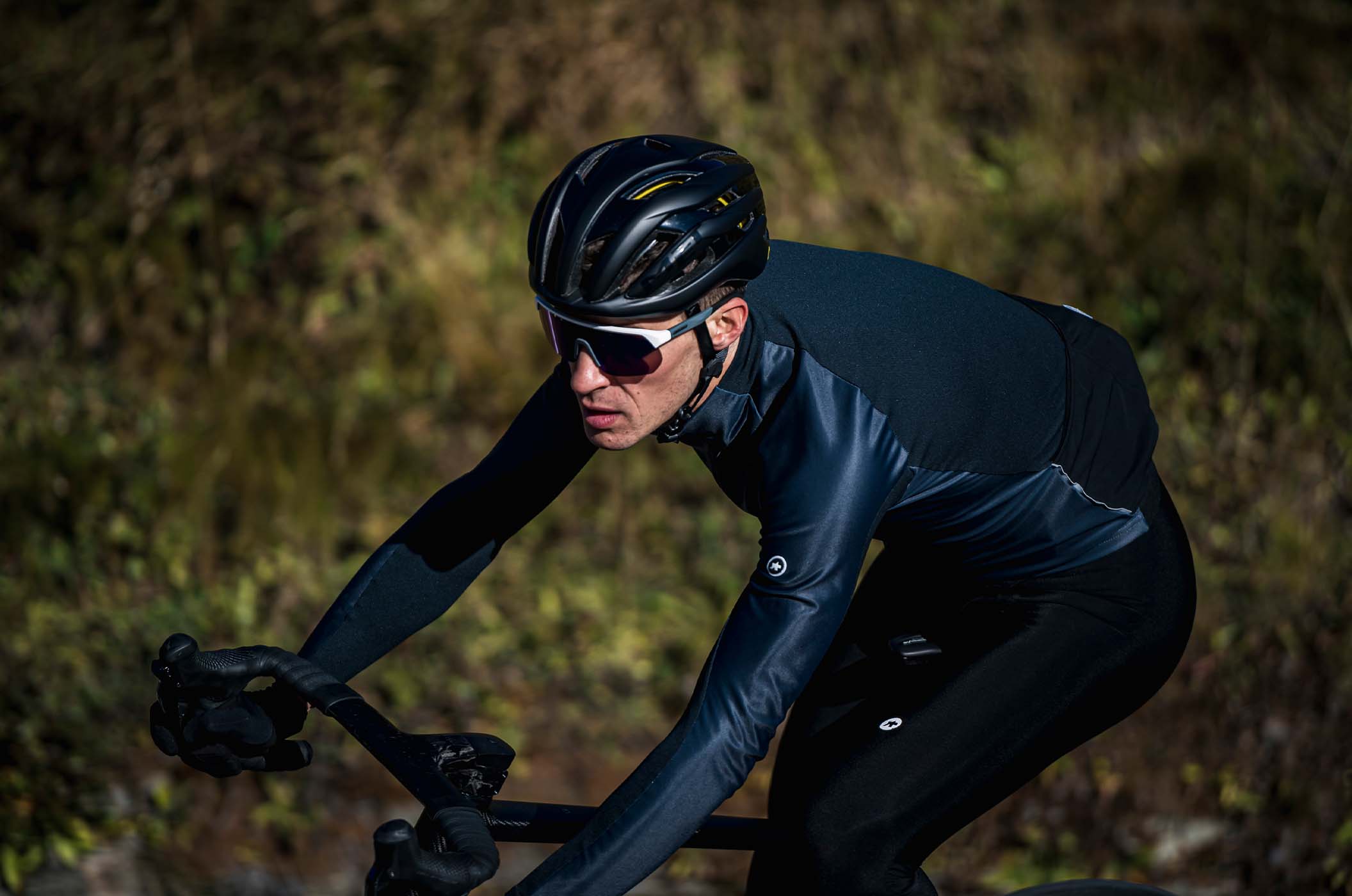 Mille GTO – ASSOS Cycling Shorts for More Comfort on Longer Stages
ASSOS has reinvented bib short design for more fun on longer rides, presenting you with the GTO collection - the pinnacle of the MILLE GT collection. Based on the legendary CENTO and Campionissimo bib shorts, it features the softest, most reactive and breathable ASSOS pad to date. The pad has been radically reshaped to minimise pressure and friction on the genital area while providing optimal support for your muscles. ASSOS Mille GTO collection cycling shorts also set themselves apart thanks to their main fabric, OSSIDIA, which contributes to creating an optimal balance between frictionless comfort and muscle compression. Increased breathability is provided by the patented "3D WAFFLE" foam, which also eliminates any excess pad weight. When you wear the ASSOS Mille GTO bib shorts, you can simply channel all your energy into enjoying your cycle.
ASSOS RALLY, XC & TRAIL Mountain Bike Collections
Road biking is in ASSOS' DNA, but the Swiss company has also been offering top-quality ASSOS jerseys and shorts for mountain bikers since 2016, and to great acclaim. There are a wide variety of mountain bikes, and so ASSOS has designed their MTB collections with a wide variety of features. The versatile RALLY collection contains high-end innovative clothing for gravel trails, single tracks and everything in between. Specially developed for professional cross-country riders, the ASSOS clothing in the XC Racing line cuts no corners when it comes to quality and performance for off-road racers. The TRAIL collection was brand new for the 2019 season. It dispenses with aerodynamics for a relaxed fit and hardy fabrics - perfect for all-mountain riders who prefer off-the-beaten single tracks.
ASSOS is more than a brand – ASSOS is a way of life. And true to this motto, the GTASSOS series rounds off their portfolio, offering clothing for leisure cycling and touring with an urban look.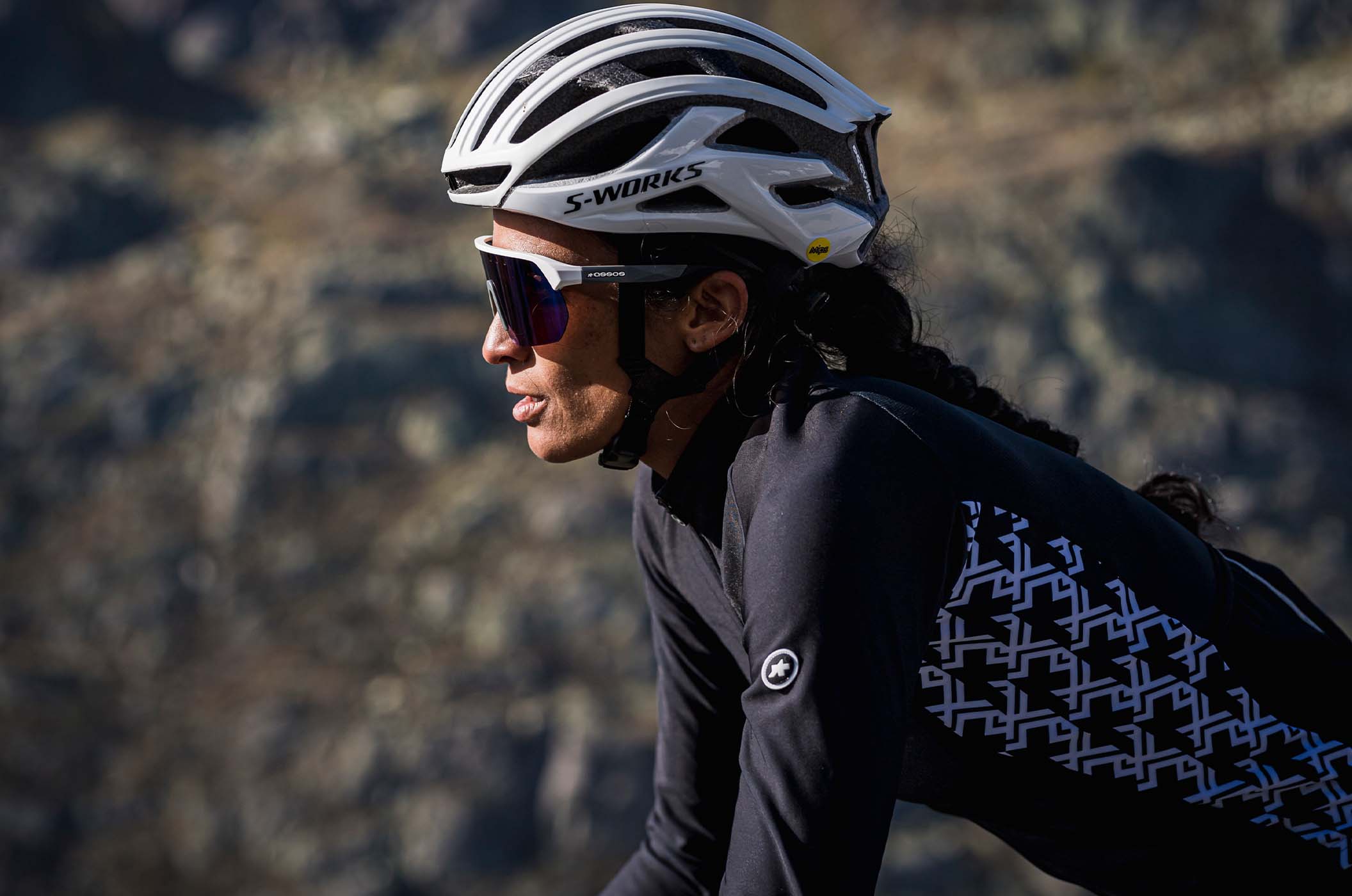 ASSOS X BIKE24 Team Wear – Exquisite Road Bike Clothing with BIKE24 Style
ASSOS meets BIKE24 - an avant-garde symbiosis between aerodynamic race performance clothing by Assos and stand-out BIKE24 design. 
With chic jerseys, matching cycling caps and unparalleled bib shorts which excel in terms of material, fit and comfort, the ASSOS x BIKE24 collection is tailor-made for ambitious cyclists who have particularly high demands.