Zone3 – Award winning triathlon wear and equipment
The world's highest-rated triathlon brand takes an athletic-centric apporach to endurance sportswear. Founded by former elite triathlete James Lock Zone3 is working with many professional athletes and skilled designers. Conqequently, their triwear and wetsuits have won more awards than any other brand. Feel the excellence and reach new limits. With every stroke, every revolution and every stride.
Read more
Born out of Olympic Dreams
Long before the Zone3 brand was named, its founder James Lock was busy designing drag shorts and flippers and selling them to other swimmers and triathletes. His products were not only supposed to make him faster, but also co-finance the fulfillment of his Olympic dream. A long-term injury and a first-class degree in engineering quickly allowed him to focus on building Zone3. After its official founding in 2004, the triathlon brand quickly became successful in the UK and is now known internationally as a leading manufacturer of trisuits, wetsuits, swimsuits and triathlon equipment.
Optimal support for beginners and professionals
The Advance, Vision, Aspire and Vanquish suits are thoughtfully crafted for different requirements, from sprinters to long distance athletes. Tailor-made cuts for men and women, made of high quality material, with flexible shoulder parts, buoyancy inserts and silicone cuffs on the legs ensure that you not only get through the water, but also through the transition zone quickly.

Triathlon suits like the Activate and Aeroforce or a combination of top and shorts meet all your training and competition needs. And for the very long distances, the Aquaflo and LAVA Trisuits are equipped with particularly ergonomic seat cushions and flat, protected seams. However, the high level of comfort is not at the expense of performance. In addition to the increased buoyancy of the suit, a water-repellent coating reduces water resistance. The breathable material also ensures excellent perspiration and air circulation.

When you try to cross boundaries, you're often exposed to extreme temperatures. With swimming caps, swimming socks, gloves, calf sleeves, vests and toe caps made of neoprene, you're protected in all situations. You can store and carry all your equipment and other accessories for your training or your next triathlon, such as swimming goggles, sunglasses, hand paddles, buoys or elastic laces, conveniently in the backpacks, swimming bags and bike bags of Zone3.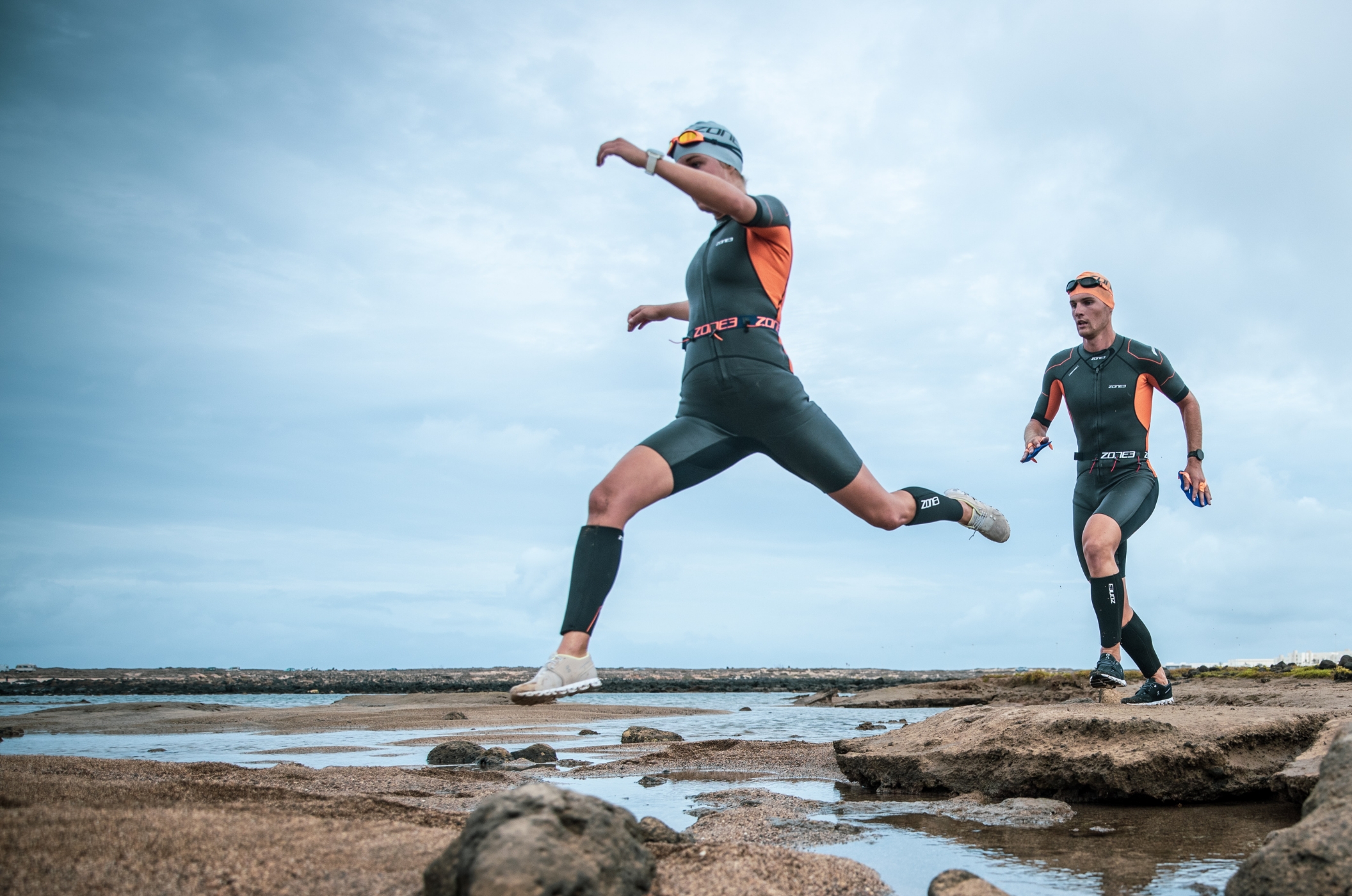 Award-winning, highly rated and customer-oriented
No other brand has received a higher percentage rating or more product awards from the magazines 220 Triathlon, Triathlon Plus and Triathlete USA in the last eight years than Zone3. Including the first and only 10/10 rating in the history of 220 Triathlon Magazine. Many other awards, such as Best in Class, Top Value and Game Changer of the Year, distinguish the ingenious suits. The brand's outstanding reputation was literally crowned in 2018 when members of the Zone3 Royal Family presented the prestigious Queens Award for International Trade. And to ensure that this high quality is maintained, the staff listen carefully to the customers and try to include all feedback for the following season. This keeps the ratings high and the customers fast.