Cannondale – Bikes & E-Bikes Designed in the USA
Cannondale has been synonymous with innovation since 1971. From the first CAAD aluminium bikes to the legendary Lefty through to the latest carbon road bikes, Cannondale has kept redefining the limits of what's possible. Quality, unique designs, integration and revolutionary technology are the hallmark of Cannondale bikes, parts and apparel. Whether on- or off-road, traditional or with e-power, the cycling enthusiasts from Wilton, Connecticut have a portfolio that leaves nothing to be desired.
Read more
Cannondale Bikes – The Perfect Ride Since 1971
Back in 1971, Joe Montgomery and his team in Wilton, Connecticut, laid the foundations for one of the most successful US bicycle manufacturers and the name Cannondale actually comes from the railway station located not far from the company's headquarters. The brand originally specialised in the manufacture of bicycle panniers and camping equipment, but as a pioneer in the construction of aluminium frames, the company took their next step in 1983 and built their first series touring bike, and so the CAAD (Cannondale Advanced Aluminium Design) frame was born, a bike which has since become legendary. It set new standards in the bike industry thanks to its low weight and efficient levels of rigidity. The following year, the company began production on a mountain bike and road bike, and numerous patented inventions in the field of frames and parts followed, such as Hollowgram Si cranks, SI (System Integration) components and the unique Lefty suspension fork.
The huge product range now includes road bikes, gravel and cyclocross bikes, full sus MTBs and hardtails, e-bikes, trekking bikes and urbanbikes. In keeping with their commitment to quality, integration and innovation, Cannondale produces bike parts, accessories and clothing for men and women.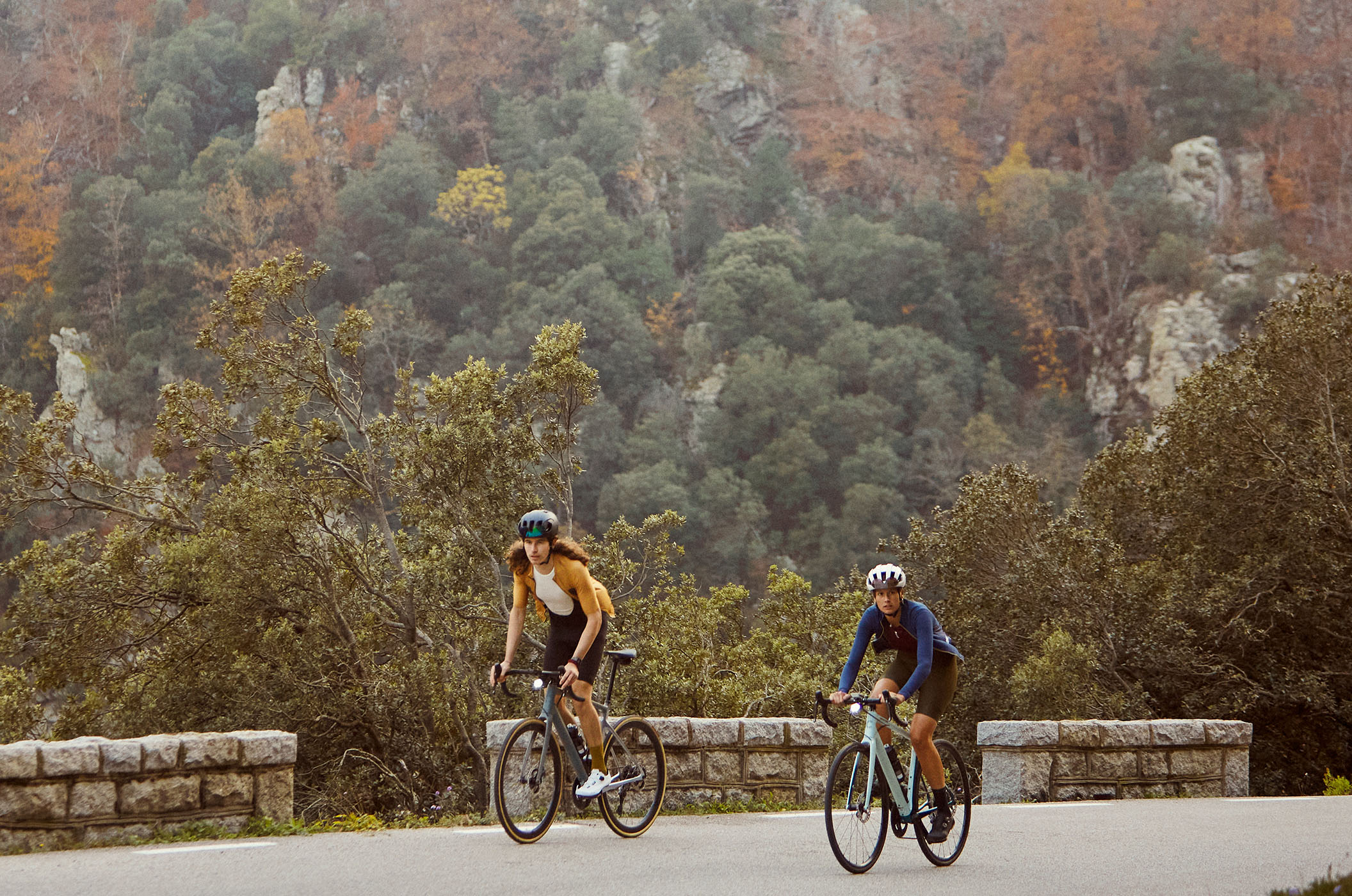 Cannondale Gravel Bikes: Topstone Carbon Goes Lefty!
You can't get more gravel bike than this! With the Topstone Carbon Lefty and Cannondale e-bike Topstone Neo Carbon Lefty, Cannondale has combined their knowledge of fast racing bikes and lightweight full sus mountain bikes to create a unique all-terrain machine: the Lefty Oliver, an extremely rigid suspension fork with 30 mm of travel, specially designed for gravel biking, provides more control and comfort at the front. The rear is where the revolutionary, super-light KingPin suspension system does its work. Together, they give the ultimate on-road, off-road, adventure experience, for maximum thrills on terrain that other gravel bikes can't touch.
The Cannondale Topstone gravel bike is available in a wide range of variations and with different equipment options, for example, you can buy it with an aluminium or carbon frame and kit it out with affordable all-round equipment or go for the absolute high-end package, as you prefer. This means that the Topstone is suitable for both gravel beginners and true professionals. Cannondale has added an e-gravel bike to their range with the Topstone Neo. The motor and battery are inconspicuously integrated into the design of the frame so they are hardly noticeable.
If you prefer a more classic dropbar style, then the cyclocross or cross bikes in the Cannondale range will be more your thing. They're light, efficient and sophisticated - everything you need to get the most out of your off-road riding. Cross classics by Cannondale go by names like SuperSix Evo and SuperX that are easy on the ear. The top model is without doubt the award-winning SuperX Force eTap AXS carbon cyclocross bike.
The Flagship of Cannondale Road Bikes: SuperSix Evo
The Cannondale SuperSix Evo road bike has always been popular thanks to its low weight, high rigidity and precise handling. Committed to this recipe for success, the American brand has given their crown jewel new aero tube profiles, adding an exciting dose of aerodynamic efficiency. The SAVE rear stays and KNØT seatpost increase comfort and with decent added tire clearance, the SuperSix Evo will become your go-to off-road racing machine in no time.
For road cycling beginners, the CAAD aluminium road bikes by Cannondale offer the perfect price/performance ratio.
Cannondale Mountain Bikes: Light, Fast, Practical
The Cannondale Scalpel is the ultimate XC full sus race bike for unbelievably fast, agile and fun riding on XC race courses or your local trails. The Hi-Mod carbon frame is more aggressive and lighter than ever before and, together with the new FlexPivot suspension system, provides grip, traction and control where other cross-country mountain bikes reach their limits. Practical features such as the removable stash kit and 2 bottle holders make the racing machine the full package. You can also choose between the classic race-oriented MTB or the hard-hitting, trail-oriented Scalpel SE.
If you prefer to tackle more challenging trails on your new Cannondale MTB, then a Cannondale trail bike will be more your thing. The Habit is a versatile Cannondale full sus, available with a robust aluminium or rigid carbon frame and balanced 130/140 mm suspension. The Jekyll, however, is the ideal bike for the toughest terrain. The Cannondale enduro bike features a brand-new carbon frame and offers a whopping 165 mm of travel, with a chain pulley to ensure absolute efficiency. It is the perfect bike for enduro races, bike park sessions and technically demanding trails.
Cannondale e-Mountain Bikes: Make Way for the Habit Neo, Moterra Neo & Co.
Cannondale has enhanced the classic Habit MTB with the motor it deserves. Equipped with a long-lasting battery, elegant Kiox display and compact, powerful Bosch Performance CX motor, the Habit Neo is perfectly equipped for long rides up and downhill. Like its non-electrified counterpart, the agile e-mountain bike is kitted out with 29-inch wheels. With a generous 130 mm of travel at the rear and 140 mm at the front, it knows how to impress on any trail. Cannondale has invested a lot of expertise into the chassis, and thanks to the "Proportional Response", each frame size has adapted kinematics to create even more riding thrills. Other e-mountain bike models made by Cannondale include the Moterra Neo and Trail Neo.
Give a Fresh Spark to Your Everyday Routine: Urban and Trekking E-Bikes from Cannondale
Whether on your way to work, shopping or visiting friends: everything is much more fun on an Cannondale electric bike. You move, do something for your well-being, enjoy the fresh air and save time and money to boot. And on an urban e-bike from Cannondale, not only are you efficient, you also look chic, and there's a wide variety of models to choose from. The Adventure Neo is easy to handle and super comfortable. It is perfectly equipped for use in the city and transports you over roads, cycle paths and country lanes in safety and comfort. Commuting to work or just cruising along? The Adventure Neo is your go-to.
The Cannondale Mavaro Neo e-bike models are kitted out to an exceptionally high standard and are robust to boot. There's nothing to be desired here. The e-bikes offer a range of up to 175 km and are available with disc brakes and a suspension fork. The top model with hub gears and belt drive is practically maintenance-free.
Other highlights in Cannondale's e-bike portfolio include the robust Tesoro Neo and the stylish Canvas Neo urban e-bike.
Small Bikes, Big Fun: Cannondale Kids' Bikes
Children are our future. And we help shape their future through the example we set for them... And the bikes we buy them! Kids' bikes by Cannondale are made to accompany your little ones from the first few wobbly metres they ride on a balance bike to their first single track adventure. It is especially important when it comes to kids' bicycles to have well thought-out features and ensure safety, above all. That's why at Cannondale you'll find lightweight, specially-adapted kids' bikes for all ages.
Cannondale Kids Trail Balance bikes and the Cannondale Kids Trail bike with 12" wheels are ideal for kids from 1 to 4 years of age. When they reach 4 to 6 years of age, the youngsters then switch to the Kids Trail 16 models, and from 5 to 8 years, the Kids Trail 20 will be a perfect fit. The Kids Cujo and Kids Quick models round off Cannondale's kids' range. The models available for kids from around 7 to 12 years of age have the same names, but are equipped with 24-inch wheels.