Speedo - Revolutionary Swimwear and High Quality Accessories
Speedo has been writing swimming history for over 100 years and supports recreational swimmers and top athletes in the water. From the first silk swimsuit to the sensational Fastskin LZR Racer, Speedo sets new standards. With the innovative swimsuits and jammers as well as the swimming accessories such as goggles, caps, paddles or kickboards, the water gives up its resistance and nothing stands in the way of new personal bests.
Read more
Swimwear for More Speed and Less Resistance
Founded in 1910 as an underwear company in Australia, Speedo became the company we know today with the very first swimsuit made of silk instead of wool in 1928. The fitting slogan with which they advertised their stylish swimwear at that time was: "Speed on in your Speedos". The brand remained true to its innovative approach and achieved its first major breakthrough with nylon swimwear at the 1956 Summer Olympics. In 1968, 72 and 76, 70% of all medal winners in swimming competitions at the Olympics wore Speedo swimming jammers or suits. 

New fabrics and materials like Lycra or Aquablade not only brought faster times, but also more comfort and durability. At the end of the 90s, Speedo started to develop Fastskin. The material was designed to imitate the structure of shark skin and thus noticeably reduce water resistance. A development that culminated in the LZR Racer in 2008. The suit, designed in cooperation with NASA and other research institutes, caused quite a stir because it caused such big jumps in swimming times and world records that FINA later excluded it from competitions.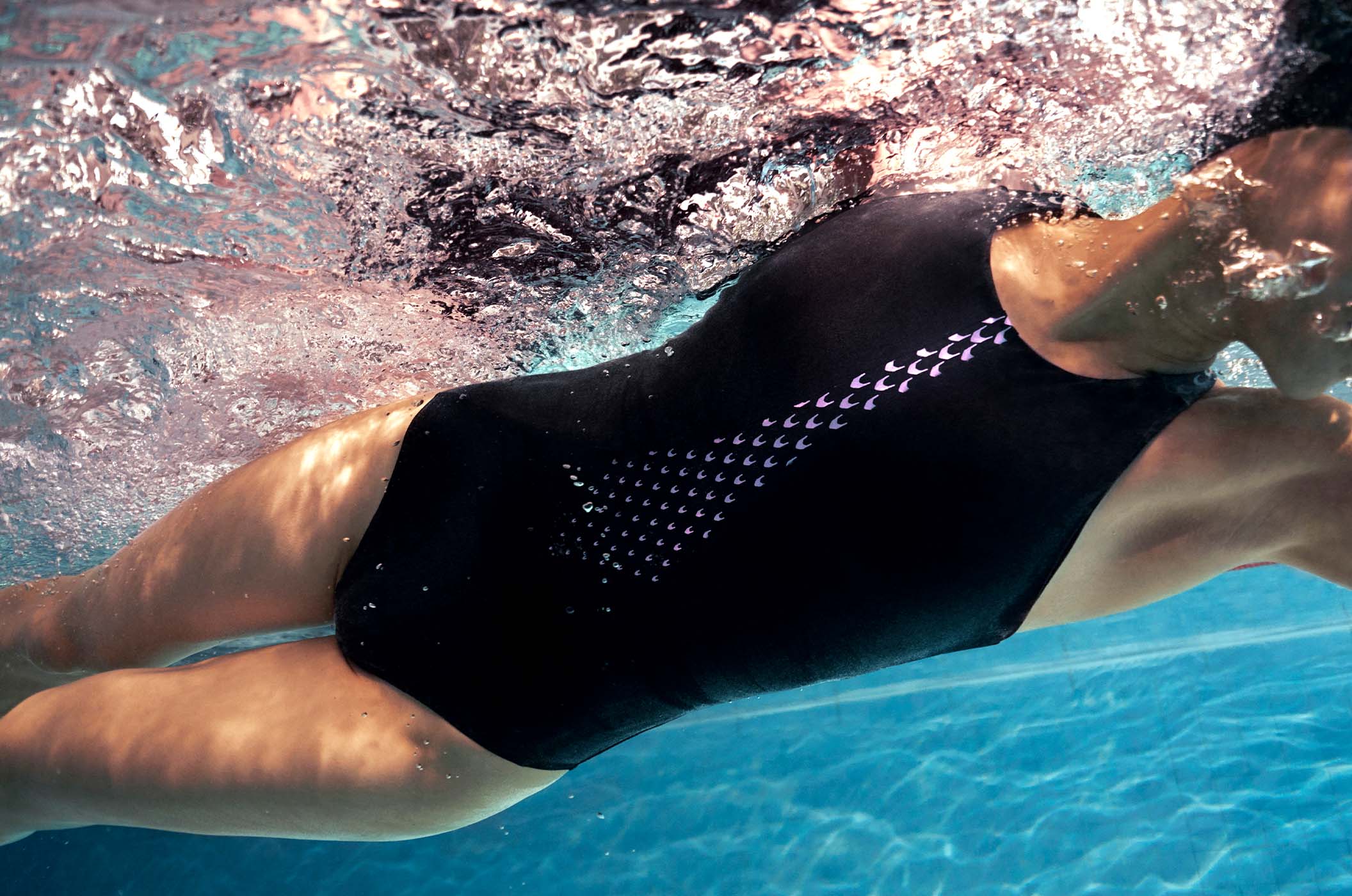 Swimming Goggles for Clear Vision, Protection and Comfort
Finding the right goggles is an art in itself. To make sure they fit comfortably on the nose, don't pinch and stay perfectly sealed, Speedo has carried out intensive research into the fit and developed the innovative IQfit™ technology. Naturally, the goggles for women, men and children are adapted to the specific shapes of the faces. 

Two other important factors that influence the choice of the right goggles are the intended use and the environment in which they are primarily used. The standard for indoor swimming pools as well as for outdoor use are clear lenses. These ensure clear vision, especially in poor light conditions. By contrast, in particularly bright conditions in swimming pools or in sunny outdoor conditions, smoke lenses contribute to optimum vision by reducing the brightness. 

Polarised lenses are ideal for triathlons, swim runs and open water swimming. Since light is often reflected from the surface of the water into the eyes out on the lake or in the sea, polarized lenses help to filter out any glare. They can also be worn without any problems on cloudy days or in well-lit halls. Mirrored lenses reflect even more light away from the eyes and are therefore the number one choice for competitions. Many swimmers believe that, in addition to reducing irritating light effects, they also give them a psychological advantage.

A range of coloured lenses extends your choice even further. While orange lenses increase contrast in difficult lighting conditions, pink lenses do so for green and blue backgrounds. Purple lenses reduce glare and blue lenses are an all-rounder in bright light conditions.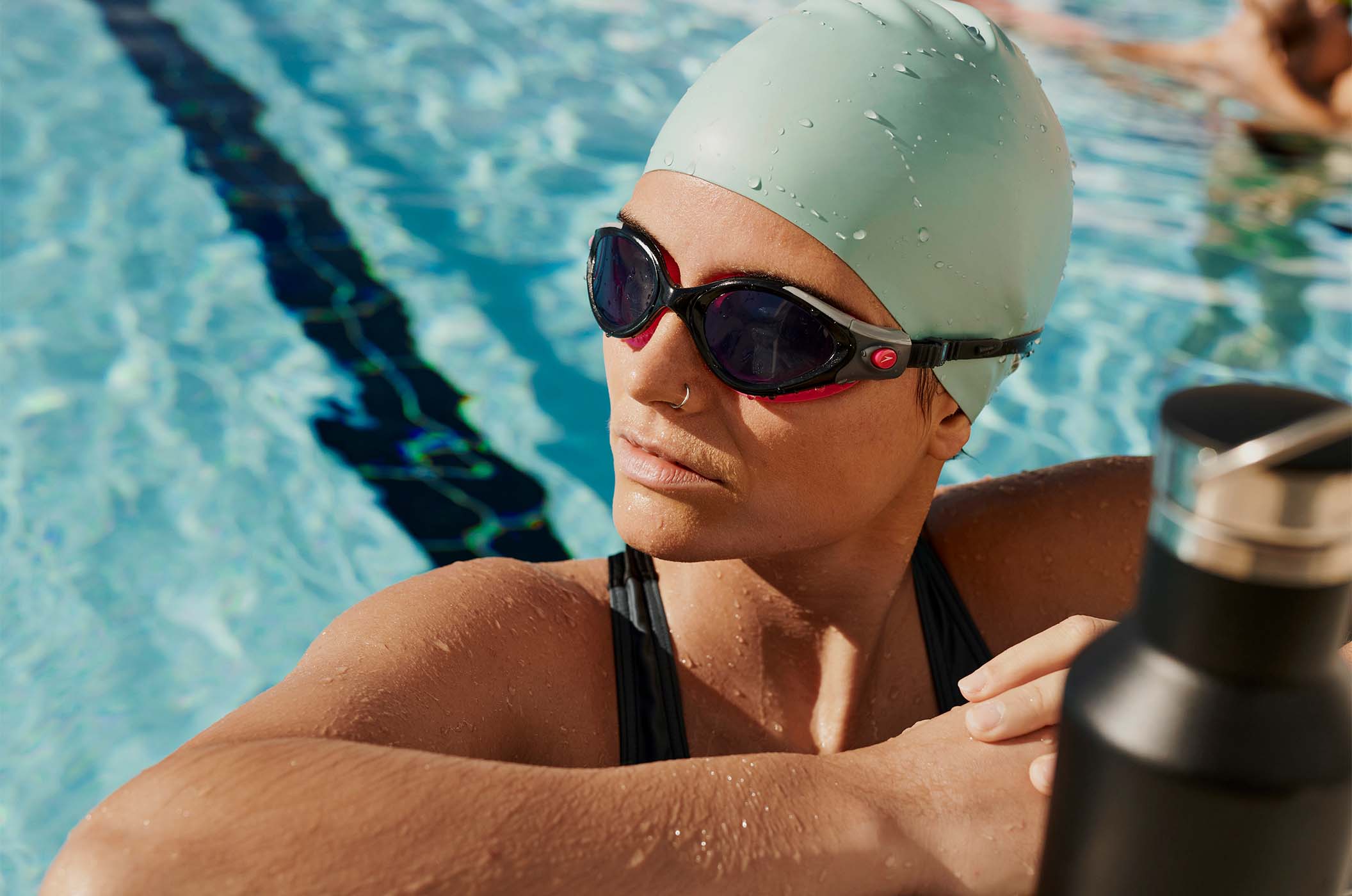 Swimming Accessories for Training, Competition and Leisure
In addition to the advanced and versatile swimsuits and goggles, Speedo also offers a whole range of useful accessories for optimal training, fast competition times and lots of fun in the water. Kickboards, paddles and fins will help you fine-tune your technique, while swim caps, bathing shoes and bags will enhance your comfort. And with stylish swim trunks and bikinis, you'll be ready to go when you're not thinking about training for once.