Orca – Premium Clothing & Equipment for Triathlon, SwimRun and Open Water Swimming
Orca chose its name after the largest predator of our time. In the beginning Orca was a manufacturer exclusively for wetsuits, but over the years the product range has been continuously expanded and further developed. Today Orca stands for aerodynamic developments, useful accessories as well as training and competition textiles in the Triathlon, SwimRun and Open Water swimming sectors.
Read more
From Beginner to Pro - Orca Knows What Triathletes, Swimrunners and Open Water Swimmers Need
Founded in New Zealand by former triathlete Scott Unsworth, the Orca brand is known for some of the fastest and most functional wetsuits on the market. From beginners to top athletes like Sebastian Kienle, the equipment will suit every athlete. Top sellers like the Orca TRN Thermo can be found in almost every body of water. In addition to a wide range of high quality training and competition clothing for triathlon, Orca also uses its accumulated knowledge to produce wetsuits, swimming gloves, neoprene vests and safety buoys for open water swimming. A great thirst for adventure was also present in the creation of the trendy sport SwimRun, for which Orca offers specific wetsuits and a wide range of accessories such as arm warmers or bungee elastic cords. 
Innovative technologies and fabrics ensure that you're in top form for every short or long distance triathlon, when training in the pool or lake, as well as on the road bike and on the running track. And of course there are also high-quality swimming trunks, swimsuits, goggles, tops, bras or caps for all purposes. 
The Perfect Wetsuit for Every Type of Swimmer and Triathlete
At Orca, triathletes work for triathletes and therefore we have the right neo for both professional swimmers and beginners. 

If you already have a near-perfect water position or are looking for maximum freedom of movement, then the wetsuits from the Natural Swimmer series are for you. The Orca Alpha is probably the most elastic wetsuit on the market, thanks to the ingenious 0.88 FREE material. The 0.88 mm thin 5-layer fabric is almost imperceptible, yet with its titanium surface it provides excellent insulation. With the Orca Equip, men and women can also glide through the water like a sea creature. The Infinity Skin lining provides comfort, while the Yamamoto 39 material ensures maximum flexibility.

Want lots of elasticity in the upper body but some support for the legs? The Total Swimmer Suits are designed to compensate for minor mistakes in footwork with a little extra buoyancy. The flagship of the series and triathlon history is the Orca Predator. While the 0.88 FREE material provides warmth and fastest swim times, the CLS fabric, made from Exo-Cell, stabilizes your hips and helps you perfect your technique. Many other technologies make the suit one of the most advanced wetsuits available. The Orca Sonar is guaranteed to satisfy almost every need, offering the perfect balance between buoyancy and flexibility. The women's versions have been specially designed to fit the female body shape and can help maintain a perfect water position. 

Is swimming still new territory for you, or at least the least popular discipline in triathlon? The Progressive Swimmer range is the ideal solution to make you feel good and improve your performance at the same time. Additional buoyancy accelerates the improvement of your swimming technique and swim times. Whether it's the Orca 3.8 or the more affordable Orca S7, these wetsuits will turn you into a water enthusiast in no time.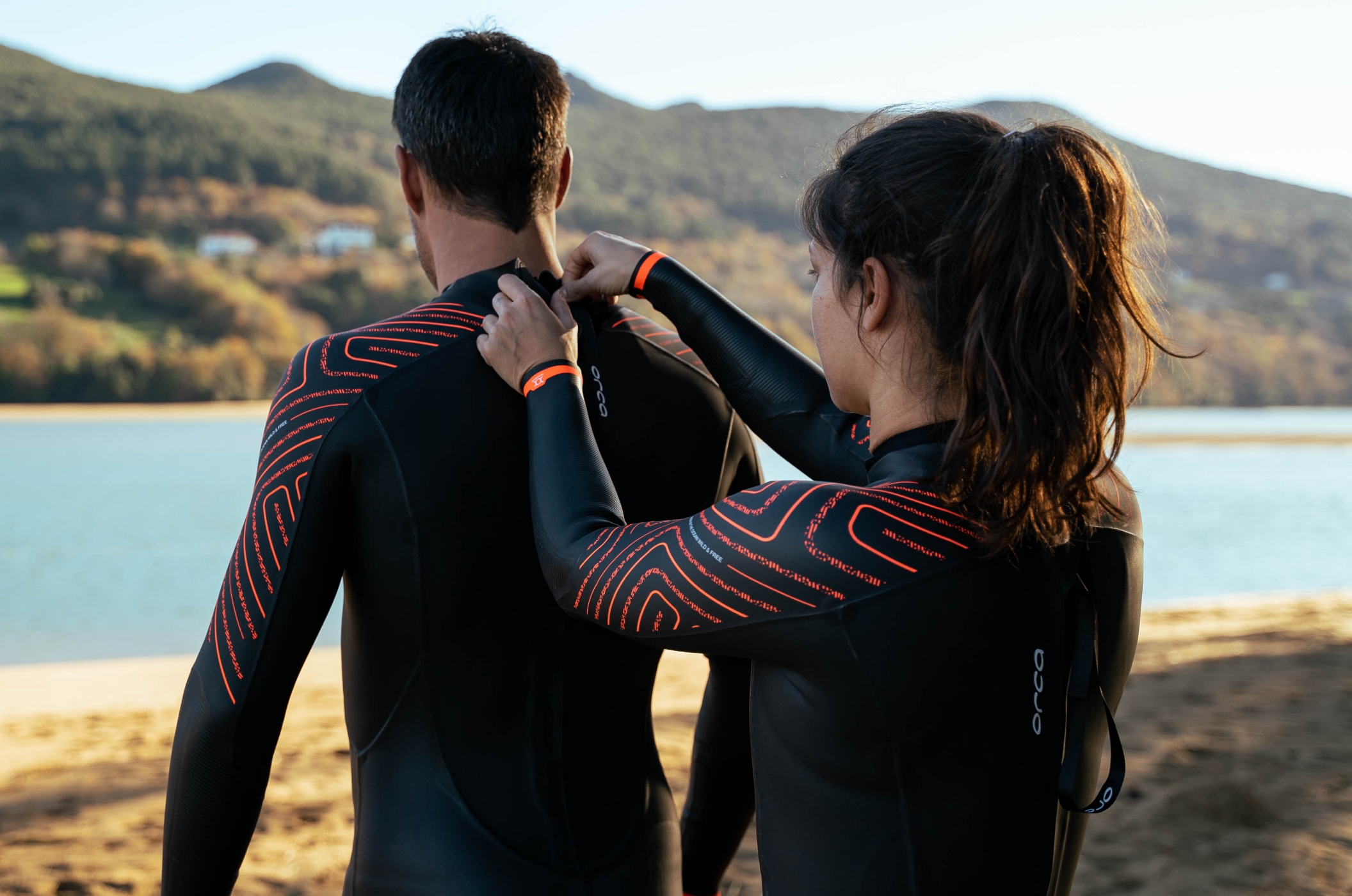 Sophisticated wetsuits for Open Water and SwimRun
Do you want to feel absolutely safe on the open sea, swim the English Channel, or simply protect your children? The Open Water Core Wetsuits with or without sleeves are the perfect companion in open waters. 2-2.5 mm thick Yamamoto neoprene keeps you warm even in winter, and the neon orange colour ensures high visibility. Even as a two-piece with RS1 top and bottom you are always ideally equipped when you go on an adventure trip in the water. Kids will find the Orca Open Water Squad Kids Wetsuit to be a suit that will keep them in the water for hours on end and in sight at all times. 

The Orca SwimRun Core and Orca RS1 Swim-Run bodysuits, vests, tops and trousers are designed for versatility and comfort when swimming and running. Smart pockets for gels, GPS devices or the emergency whistle, detachable sleeves for extra buoyancy when swimming or extended zips for quick opening: The durable garments of the SwimRun series take you quickly and safely over islands and through water.
Racesuits and Swimskins for Highest Performance
Aerodynamics, breathability and comfort perfectly combined create a great racing experience. Orca Race Suits additionally feature sun protection, seat padding and pockets to help you cross the finish line without pain and with lots of energy instead. From the Orca Core Basic Race Suit to the Orca 226 Perform one-piece and two-piece or the Orca RS1 Dream Kona Aero Race Suit, every suit is designed to keep every beginner or pro swimmer, cyclist and runner smooth, fast and relaxed. And if wetsuits are not allowed when swimming, the Orca RS1 or 226 Perform swimskins will still give you enough buoyancy and less drag without the suit soaking up water.