Odlo Clothing - Sportswear for Running, Nordic Sports & Outdoor
The Swiss company with Norwegian roots is a market leader in the field of functional sports underwear and a specialist for a modern clothing system with matching layers. They offer baselayers, midlayers and outerwear for running, Nordic sports, training and outdoor as well as a complete bikewear collection including cycling shorts, jerseys, jackets, underwear and accessories.
Read more
Odlo was founded in 1946 by Odd Roar Lofterød in Oslo under the motto "Always be one step ahead". It all started with the production of women's underwear until he began producing training pants made of synthetic Helanca fibres for his son, who was part of the Norwegian speed skating youth squad. The training colleagues were enthusiastic and all wanted to use the same pants. Inspired by this, an elastic and warm functional tracksuit for cross-country skiers and speed skaters followed in 1963. The success was not long in coming: in 1964 the Norwegian team wore Odlo's suit at the Olympic Winter Games in Innsbruck. 1972 in Sapporo it was worn by 22 national teams. Odlo also pioneered the development of the first fully synthetic functional underwear. In 1979 Lofterød's son moved Odlo's headquarters to Switzerland.
Odlo Baselayer - Functional Underwear for All Seasons
As a pioneer in the field of functional sports underwear, Odlo is the market leader and innovation leader in this segment. Functional underwear transports moisture from the inside to the outside and thus guarantees comfort and performance. The Odlo Temperature Control System ensures that you are optimally equipped at any activity level at any temperature. Depending on the intensity of your activity, you can choose the base layer of the Natural (+), Active or Performance line for cold temperatures (Warm & X-Warm) or for warmer days (Light & X-Light). The shirts and underpants of the Natural (+) collection are made of environmentally friendly merino wool and are perfect for light activities, everyday life or simply for relaxation. For low to medium intensity activities, the Active Line sports underwear provides superior comfort, freedom of movement and excellent moisture management. If cold isn't an excuse for you to skip your workout and give your best in winter, the Performance collection includes seamless baselayers for intense sports activity with maximum moisture transport and thermoregulation.
For women, Odlo offers a wide portfolio of sports bras with different support levels. It is now well known that the female breast can suffer permanent damage as a result of the strain during sport. A good sports bra can reduce breast movement during sport by up to 75%. It is crucial to choose the right bra size and support level depending on the sport: Soft Sports, Medium Sports, High Sports. Odlo sports bras guarantee maximum support and comfort even under high loads and, last but not least, a good portion of style.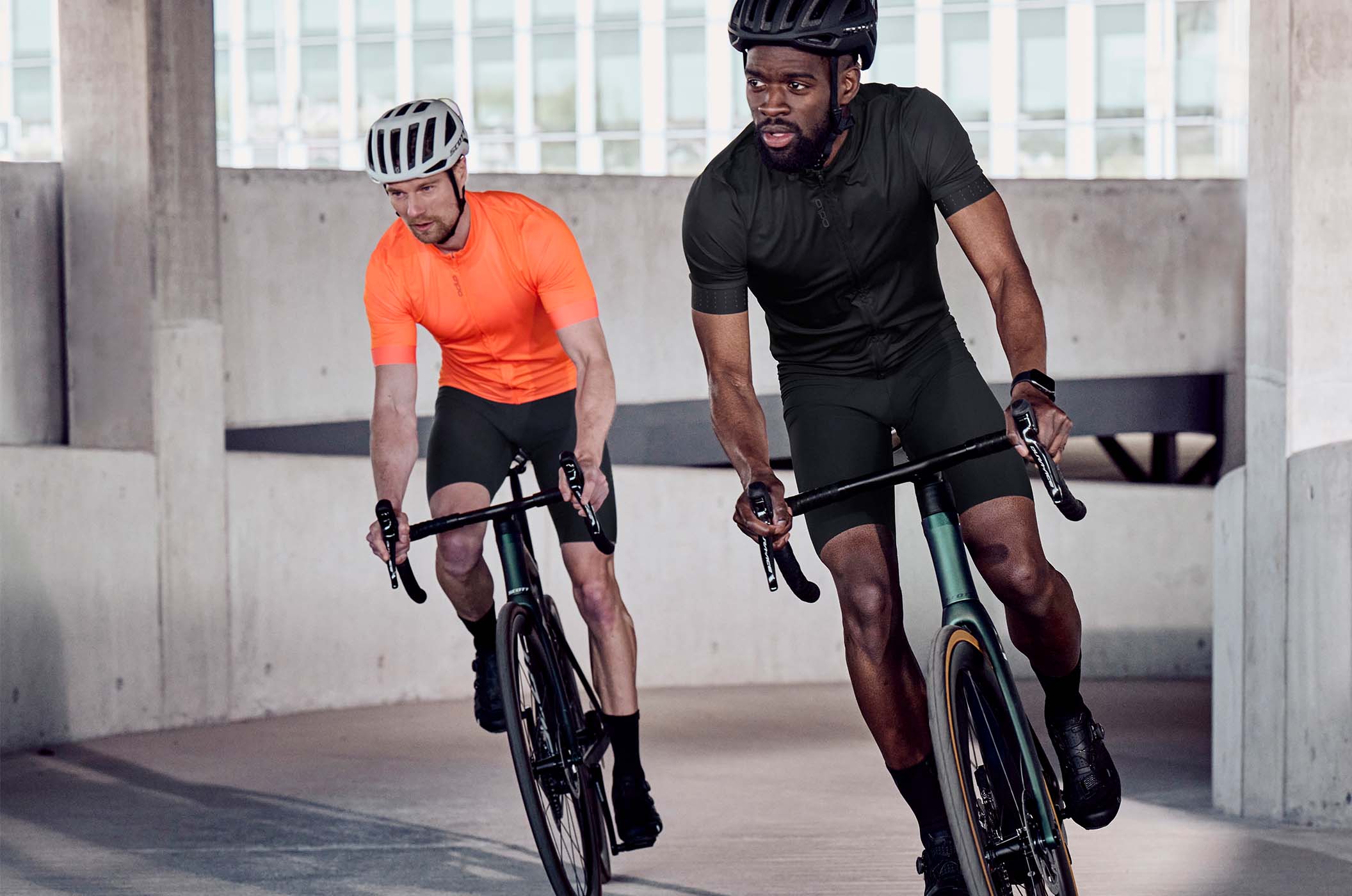 Odlo Chill-Tec-Running Wear for Men & Women
Stay chill, Run long. Odlo now uses the new Chill-Tec Cooling technology for its performance running clothes in the road and trail sector. The concept cools you during your run so that your body temperature stays at a comfortable level for a longer time. The overall textile construction of the Chill-Tec shorts and T-shirts transfers excess body heat from the skin to the outer layers of air. The Odlo Chill-Tec running styles are therefore perfect for you if you want to run in high temperatures.
Odlo Advanced Microclimate Management - The Layered Clothing Principle
In order to achieve maximum performance in all activities and conditions, the Odlo Advanced Microclimate Management concept based on the layered clothing principle allows you to achieve the perfect balance between moisture transport, temperature regulation and weather protection. 
The first layer consists of a baselayer and sports underwear. At Odlo you'll find a comprehensive selection of undershirts and underpants for quick re-drying for a comfortable temperature level. An additional second layer - the midlayer - provides insulation in really cold weather. Odlo N-Thermic insulation garments are suitable for low activity levels and S-Thermic products for high activity levels. The third and external outer layer protects you from the elements. Odlo jackets, including rain jackets, down jackets and pants offer waterproofness, windproofness, are light and easy to store. Accessories such as gloves, caps and socks complete the layer system and provide protection from head to toe.
Leading By Example - Odlo and the Topic of Sustainability
For a globally active and progressive company like Odlo, sustainability is not just a buzzword. Odlo is committed to sustainable production of its products in many areas. So it is hardly surprising that Odlo acts according to the motto "Be aware of what you wear". In German, this means you should be aware of what you wear. At Odlo, this means that the following aspects, for example, are consistently implemented in terms of sustainability:
Odlo turned a total of 210 tons of PET bottles into polyester in 2020.
Odlo uses recyclable material for all e-commerce shipping and does not use plastic bags in Odlo stores.
100% of Odlo wool is sourced without animal suffering.
Odlo down is not sourced from live or force-fed geese.
Odlo reduced its CO2 emissions from transportation by 70% in recent years.
In the course of this, the Odlo basic principles also include the durability of the clothing. Only high-quality materials are used at Odlo, because the longer a garment is worn, the more sustainable it becomes. In addition, the use of artificial cellulose fibers allows Odlo to become less dependent on natural raw materials, for example from trees. Animal welfare is also an important part of the company's sustainable approach. For example, the down used is a byproduct of the meat industry and is not obtained from live animals. In addition, Odlo tries to source materials as close as possible to the production sites in order to realize short transport distances.