ROTOR - Innovative Components and Powermeters for Road & Mountain Bikes
The component manufacturer ROTOR Bike Components is especially well-known for high quality powermeters, cranks, chainrings and bottom brackets. The patented oval Q-RINGS chainrings are the benchmark in terms of pedaling efficiency optimization. With new innovations such as their modular Direct Mount cranks for road and mountain bikes or 1x13 derailleurs, the high-end manufacturer from Spain continues to set new standards in the bicycle industry.
Read more
ROTOR Components – The Pedal Revolution
Initially, it all started with the fulfillment of a dream: in 1996 Pablo Carrasco and Ignacio Estellés founded ROTOR Bike Components. The idea was to use oval chainrings to eliminate the dead point when pedalling. The outcome: the Q-RINGS, a bestseller that revolutionized drive technology and appreciated by many professionals in the road, triathlon and mountain bike sectors. Since then, ROTOR Bike Components has been one of the most innovative leaders in cycling and can point to a large number of patents for components on road and mountain bikes. Research and development, as well as manufacturing and quality testing are under strict conditions. And all products are manufactured on state-of-the-art equipment at the Madrid facility.
Q RINGS - More Power through Technology
The CNC-milled Q-RINGS are not replicas of existing systems, but the patented reference for this component segment. With 5 optimum chainring positions (OCP) you can change the position to the crank arm to increase your pedal efficiency. With Direct Mount systems you can even adjust it by single degrees. The unique adaption system also allows you to mount your Q-RINGS on almost all conventional cranks. Many professional cyclists higly value these advantages. The world's triathlon elite rides with more than 50% oval chainrings from ROTOR. Q-RINGS are also very useful for MTBs. They improve traction on rough terrain and can offer you more speed in steep climbs thanks to the optimized torque.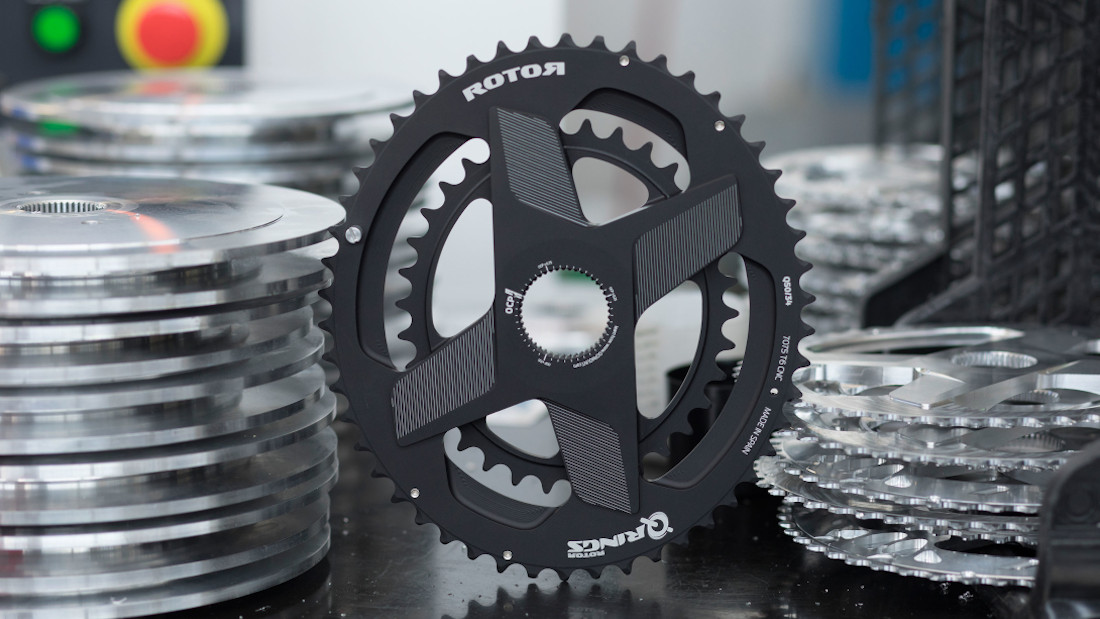 ROTOR Powermeters - Train like the Pros
ROTOR powermeters offer you the possibility to optimize your training like the professionals. The product line consists of one-sided (INPower) and double-sided (2INPower) Direct Mount cranks for road and mountain bikes with very high accuracy and an extraordinarily powerful software. A special feature is the protected integrated power measurement in the axle. The 2INpower Road, 2INpower MTB and 2INpower Track Powermeters have additional sensors in the crank arm and offer additional functions that can significantly improve personal performance and efficiency. Of course all ROTOR Powermeters are compatible with Q-RINGS and many chainrings of other manufacturers. So the random training has finally come to an end.
ROTOR Cranks - Lightweight Construction and Performance Perfectly Combined
Every ROTOR crank is designed according to the principle of perfectly combining lightweight, rigidity and compatibility. The Madrid-based manufacturer relies fully on the Direct Mount system for both MTB cranks (KAPIC, RHawk and Rraptor) and road bike cranks (ALDHU, VEGAST). The major benefits: A direct transmission of power into speed, lower weight and easy mounting without the need for special tools. Numerous chain rings in an one-piece design (oval and round) also offer you a wide choice for rides in any terrain and are further proof of the high innovative power of the ROTOR brand. Thanks to the consequently executed UBB design concept (Universal Bottom Brackets) you can install all ROTOR cranksets in almost every bike. ROTOR offers all standards of bottom brackets in various sizes. With the specially developed Rotor Direct Mount Spiders for the bolt circles 110x4 and 110x5, perfect compatibility with older drive systems is guaranteed.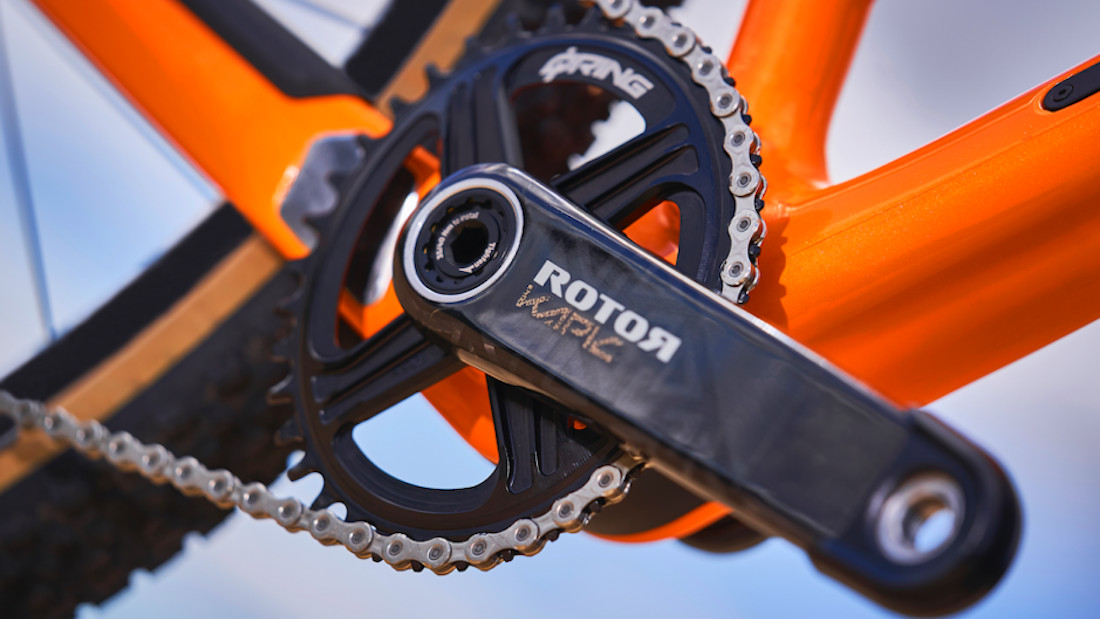 ROTOR 1x13 - The New Reference for Single Drives
ROTOR also applies its high standards to innovative groupsets. With its hydraulic 1x13-speed gearshift, the Spanish company sets a new benchmark for 1-speed drives. With the 34/10-52 set-up, the system achieves an impressive bandwidth of 520 percent. The two-part cassette covers the complete range of applications from road bikes to gravel to MTB in 4 different gradations. For rear derailleur and shift levers, ROTOR offers perfect CNC-milled parts and top-class technical know-how. Thanks to the hydraulic shifting system, changing cables as well as changing batteries for electric gears are history. The new 1x13 is compatible with the gear levers of the 2x11 ROTOR Uno groupset, because the indexing is not in the gear lever but in the rear derailleur. So you can easily upgrade from 11 to 13 gears and enjoy the new driving experience.