SCOTT Sports − Sporting Goods with Swiss Expertise
SCOTT Sports is a truly traditional Swiss company with a long history in the production of professional sporting goods. Since 1958, the brand develops a wealth of different outdoor products, ranging from bicycles to ski poles. Founding father Ed Scott, an engineer and professional skier, strongly believed in creating the best quality product possible. The brand's bike equipment is particularly popular. Whether SCOTT bikes, SCOTT bike helmets, SCOTT bike shoes or SCOTT bike apparel − everyone from budding cyclists to professional athletes know they can expect high-quality goods from SCOTT.
Read more
The SCOTT Bike for Professional Riders
After SCOTT Sports had revolutionised skiing with innovations such as the aluminium ski pole, the company turned their hand to motor racing and cycling. Since then, SCOTT bikes have been way out in front in terms of the development of new models, much like the brand's own ski poles. Be it SCOTT mountain bikes, SCOTT e-bikes, SCOTT racing bikes or special cycling equipment such as SCOTT road bike shoes − the manufacturer has been one of the top developers in cycling for over half a century.
SCOTT Mountain Bikes
Inspired by their own motocross business in the 1970s, SCOTT turned to the bicycle, more precisely, the mountain bike, from 1989 onwards. They started work on the development of aerodynamic bike handlebars and suspensions, among other things. These features were designed to give the SCOTT mountain bike more resilience and the cyclist more control over the bike in open terrain. They also continuously improve the performance of specific suspensions techniques, seen in products like the SCOTT Hardtail or the SCOTT Fully. Also in the focus of the development was the production of different types of mountain bikes for special terrains, which resulted in the following product categories:
Cross Country − travelling across the country by mountain bike? Thanks to clever models such as the SCOTT Spark RC and the SCOTT Scale RC, you'll have no problem at all. These bikes have even been used as racing bikes by professional who have won World Cups and championships.
Downhill − the classic dirt bike for freeriders and downhillers. If you're planning a trek with hills and tricky terrain with your SCOTT bike, the SCOTT downhill bikes such as the SCOTT Gambler and the SCOTT Voltage YZ are just right for you. Even notoriously difficult and muddy tracks or impossible canyons can be successfully mastered with these mountain bikes.
Enduro − with SCOTT Enduro mountain bikes you can withstand even the most difficult climbs on mountain passes. The best bike for this task is the SCOTT Ransom, which lets you effortlessly go full throttle even on steep inclines.
Trail − Trail bikes come into their own during ascents and descents. The SCOTT Genius and the SCOTT Spark are optimally designed for hilly routes.
Sport − SCOTT bicycles such as the Aspect, the SCOTT Speedster and the SCOTT Addict are great racing bikes when it comes to training. You can comfortably ride to your heart's content knowing that you're improving your body with each dynamic pedal.
One more thing: SCOTT caters specifically to women, taking their needs into account for their MTB production. The SCOTT Contessa series offers a variant specifically for women for each of the above models. For young cyclists, a SCOTT's children's bike is a great choice, such as the SCOTT 24 inch or the SCOTT 20 inch from the Scale series.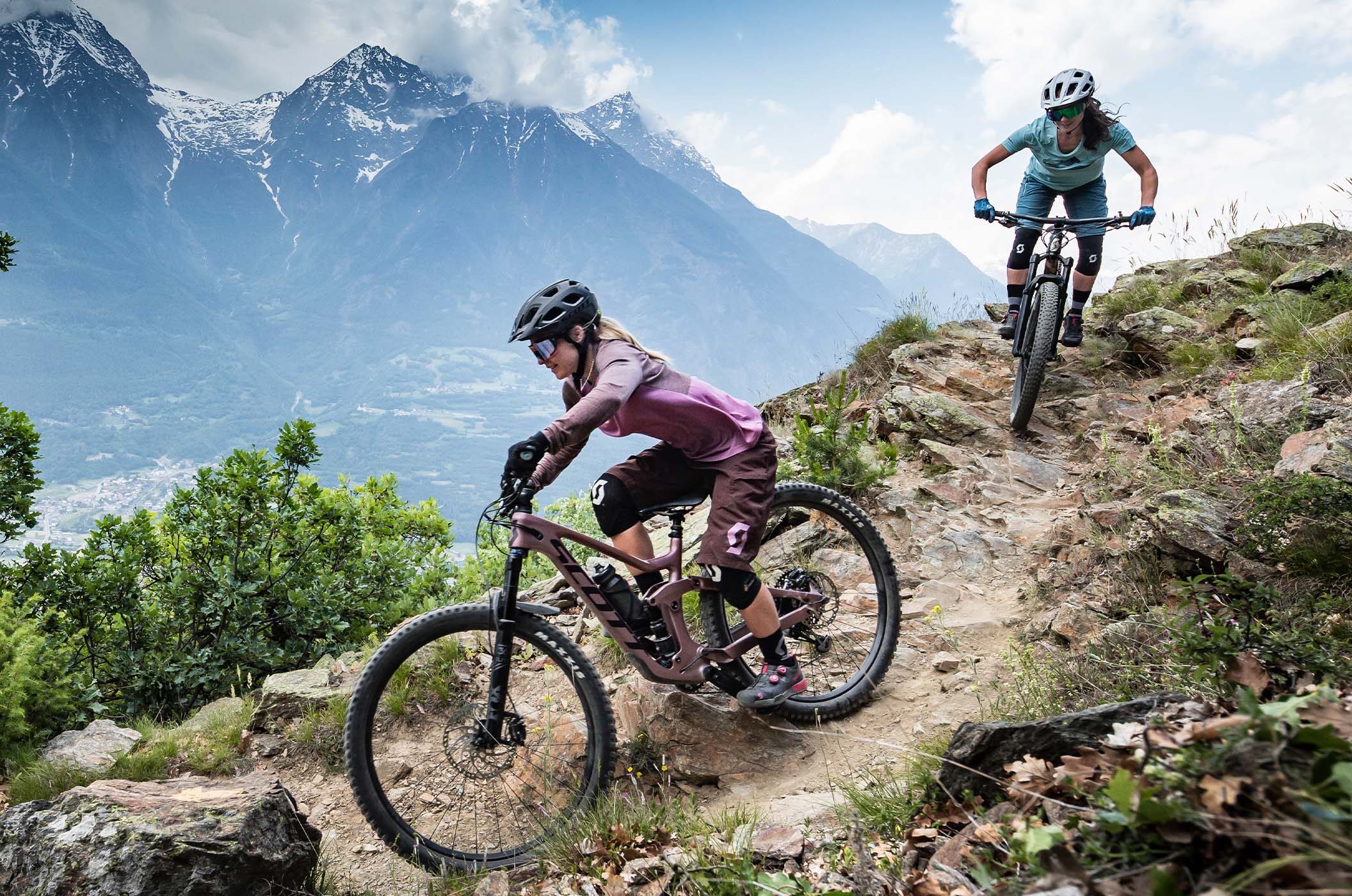 SCOTT E-Mountain Bikes
The latest innovation of the manufacturer are the SCOTT e-MTBs. These include various mountain bike models with electric drive. These are mostly electric variants of the standard series, which are available either as SCOTT e-bike Fully or Hardtail. If you like to take a break from pedaling during your bike ride, a SCOTT electric bike might be just what you're looking for.
SCOTT Shoes and Helmets – The Perfect Cycling Accessories
You can fully customise your SCOTT bike with matching accessories from their range, including SCOTT helmets, SCOTT MTB shoes as well as a variety of clothes, glasses and backpacks for your next mountain bike trip. All products in the SCOTT bike accessory range are specially tailored to the requirements of cyclists and promise maximum comfort.