Why Alé Cycling Clothing Succeeds
Whether you are a professional or an amateur with a dream of making it big in road riding and racing, Alé cycling clothing is there for you. Alé was established decades ago in Italy and has produced some of the best racing apparel for modern-day cyclists. The Alé arm warmers and Fuga skinsuit are sure to put a smile on your face as you head out in cold weather. The products are not only comfortable, but also offer your body the breathability needed when racing.
Read more
Alé Cycling Clothing – Bike Wear with History
Verona is a picturesque city with a medieval centre in the northern Italian region of Veneto. From here it is a stone's throw to Lake Garda, the Dolomites are within reach and Venice is not far away. In short: In Verona, you don't need to dream of magnificent racing bike scenery. As soon as you get on your bike here, you feel the Italian lifestyle on two wheels. In this racing bike paradise, Alé Cycling has developed into a specialist for high-quality cycling clothing. For more than 30 years, innovative products for professional teams have been manufactured here. In 2013, they founded their own brand: since then, all the passion and all the experience has been bundled in Alé Cycling clothing.
Passion is one of the keystones at Alé. The company compares its corporate philosophy to cycling. Designing and manufacturing perfect products is seen as a competition at Alé. Work is a mountain stage and everyone has to give their best to reach the goal. Besides passion, technology is of course a key to success. For this reason, the company carefully selects its fabrics and materials. They should guarantee maximum performance under all conditions.
The third keystone in the creation of all Alé products is experience. This does not only mean actual experience in production. Experience in daily use is just as important. For this reason, Alé works together with many well-known professionals. They test Alé cycling clothing products intensively like nobody else. They provide feedback, criticism and ideas. They drive all their workmanship to sprint and ensure that the products become better.
The Right Cushion in Alé Bib Tights for Everyone
Road cyclists know: The pants, including the seat pad, are one of the most important pieces of clothing when it comes to long, carefree bike rides. For this reason, Alé pays a lot of attention to its seat pads. They have different seat pads for men and women in their range, which are perfectly adapted to all kinds of uses of the different Alé cycling shorts. And the used seat pads are extremely robust and offer perfect protection during training and racing. A special perforation of the foam ensures breathability and good ventilation of the Alé bib tights. The so-called HF grooves offer good grip on the saddle. Thanks to the central shape of the Alé seat pad, you can sit comfortably in the saddle on long rides. The "Green" series from Alé is particularly sustainable. Recycled materials are used for this.
The Alé W8 HF, W4 HF and Green W4H seat pads were specially developed for women. Their shape takes into account the female anatomy. These pads have special perineal and seat areas. Specially shaped side parts adapt to women's movements and ensure a high level of comfort.
The Alé Collections
Alé Cycling has a range of collections in its programme. These consist of perfectly coordinated garments with special features. These include Alé cycling jerseys, Alé bib shorts and all kinds of accessories. For example, there are Alé cycling jerseys that are primarily designed for racing. Others show their advantages on long tours. Alé also has collections for women, for kids, for gravel use and for triathlon. In other words: If you are looking for functional cycling clothing, you will find it at Alé. In the following, we would like to highlight two collections because they have special features.
Alé Klimatik Collection
The Alé Klimatik Collection consists of garments designed for use in difficult conditions. When it's damp, cold and dark outside, long cycling shorts and the Alé jersey with long sleeves of the Klimatik series are in their element. They impress with exceptionally efficient breathability, have high thermal insulation and are partially wind- and waterproof. Visibility in the dark is also taken into account: Reflective elements of the cycling clothing ensure that you are seen in the dark. With pieces from the Klimatik collection by Alé you are perfectly prepared for winter!
Alé Green Collection
The pieces in the Green Collection are not really green. "Green" stands for the ecologically careful way in which they are made. The parts of the Green Collection, from the Alé jersey to the bib, are made of 100 percent recycled fibres. This helps to save resources and ensures that worn-out fabrics do not end up in the rubbish. Instead, they are put to a new, sensible use.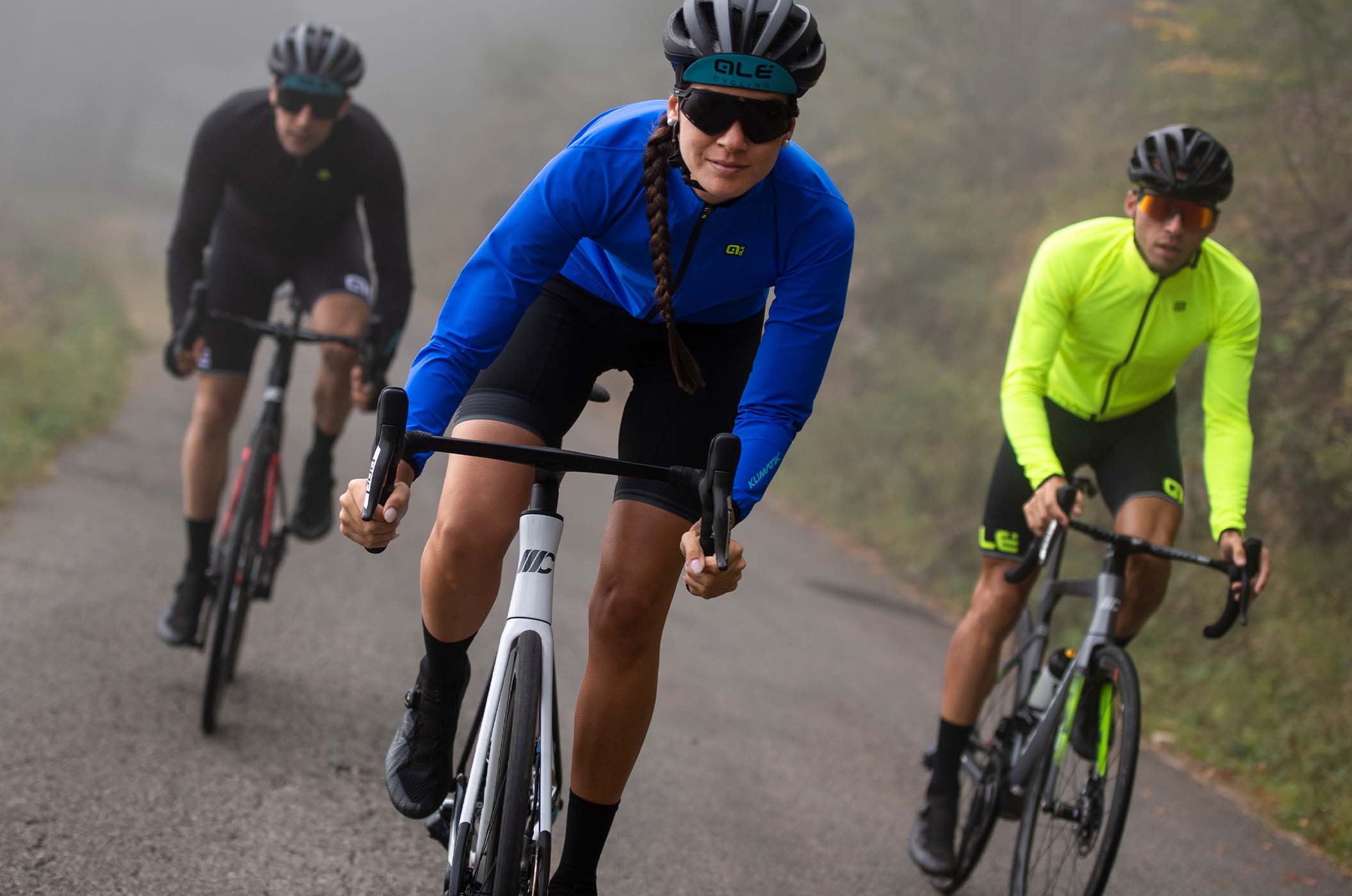 All-Round Dressed: Accessories from Alé
In addition to the classic Alé cycling clothing, the Italians have many other products in their range. This way you can dress yourself from head to toe in functional and stylish gear. There are arm warmers, leg warmers, scarves, caps, socks, balaclavas, gloves, overshoes and more. All Alé accessories are made with the same passion as the Alé cycling clothing. Everything is perfectly coordinated so that you can get on your bike perfectly dressed!
Alé Cycling – Active in Cycling
Alé has its roots in cycling and has always worked with successful cycling teams. That has been the case and that will not change. They see this cooperation as quality control and as a driver of innovation. The following teams are equipped with Alé cycling clothing:
Team Bahrain Victorious
BikeExchange Jayco Team
Groupama FDJ
Bariani CSF Faizané
Hagens Berman Axeon
FFC
Alé Cycling is also a sponsor of the Granfondo Verona Alé la Merckx. This cycling event is held in the Alé homeland around Verona. Various racing bike routes lead the participants through the racing bike paradise of the province of Verona.