Downhill & Enduro Riding – All about Clothes and Gear for Hard Sends and Big Hits

Downhill & Enduro Riding – All about Clothes and Gear for Hard Sends and Big Hits
You speed up, choose your line, take off for the jump and send it, charging full of adrenaline straight into the next berm. In fast gravity mountain bike disciplines such as downhill, enduro and freeride flow, thrill and last but not least confidence in your gear are building an exciting combination on the trails. To enable you to customize your personal enduro and downhill gear, we have prepared you a suitable selection of fancy but also durable clothes, as well as downhill mountain bike accessories likes helmets and protectors. Get your DH MTB Gear here and shred out now!
Read more
The following topics await you:
MTB-Gravity and Its Special Disciplines
Mountain bike riders and cycling enthusiasts often talk about Gravity-MTB or Park Rides. But what do these terms mean and what are the requirements for your mountain bike and your future MTB equipment? We will answer these and other important questions about Enduro and Downhill in the following text.
Gravity mountain biking refers to riding on steep downhill terrain with obstacles that allow you to overcome gravity and to take off from the ground.
In principle, gravity mountain biking includes the following disciplines: Enduro, Downhill, Freeride, Park, 4X, Dual. For these disciplines, your equipment has to meet special requirements. Here you will find everything you need to fulfill them.
We would like to introduce you to two very popular disciplines and types of terrain.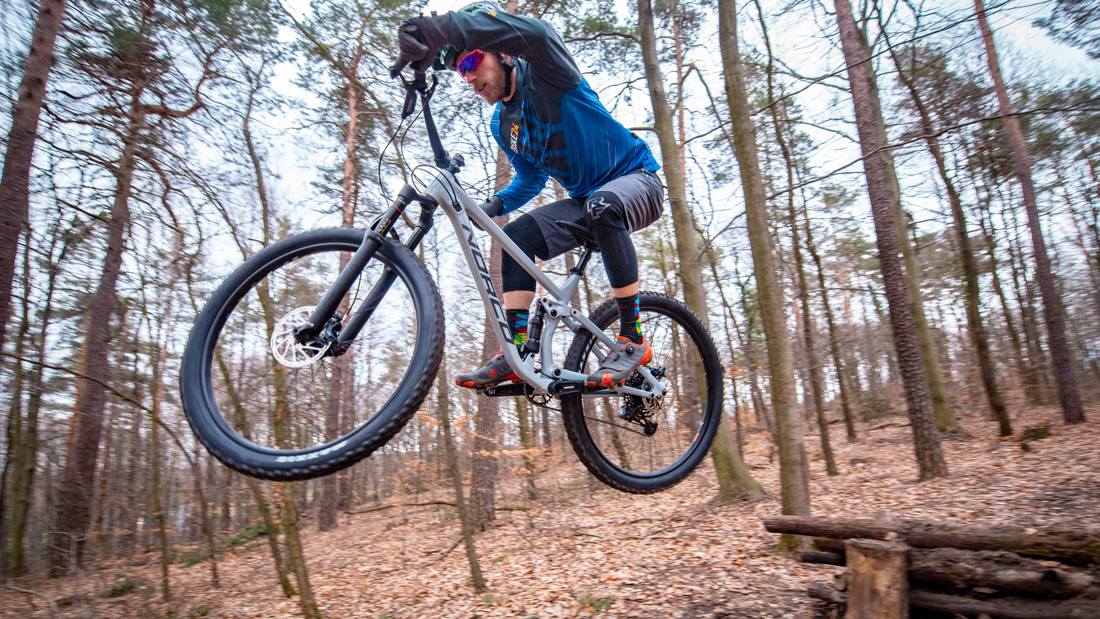 Gravity & Park Riding
A bike park offers man-made, downhill-oriented routes, which are usually divided into 3 levels of difficulty – blue = easy, red = medium, black = difficult. The courses are often divided into the following MTB-gravity disciplines according to their characteristics: Flowtrail, Pumptrack, Singletrail, 4X, Slopestyle course, Enduro, Freeride or Park and Downhill. The courses, which are also called lines, are equipped with varying obstacles: 
Flowtrail = a few, easy... up to downhill = many, demanding obstacles
The obstacles can usually be bypassed via the so-called chicken lines.
A great advantage of bike parks is the transfer to the start by chair lifts, ski lifts or shuttles. In most cases you start from a platform for a quick acceleration. During the ride, it is often possible to turn onto other lines. Along the trails, dangerous sections are marked and additionally secured.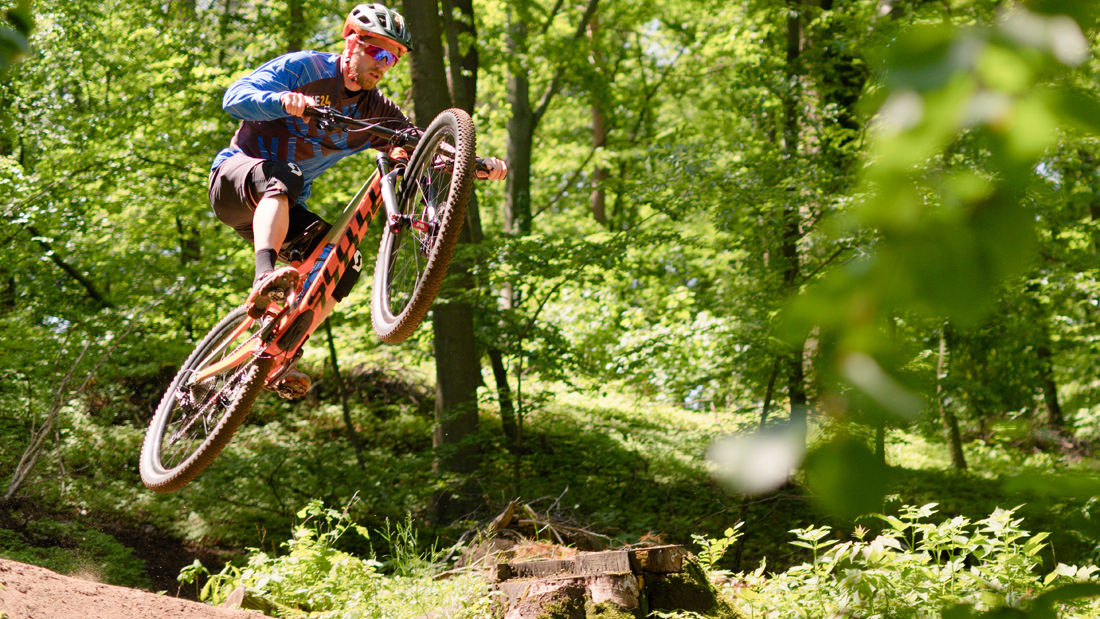 Which MTB Equipment Is Required in the Bike Park?
In our experience, you will have the most fun out of your park ride with a long-travel trail full suspension bike  or a downhill MTB and, with some experience, these bikes allow riding all possible trails. Owners of XC and trail-hardtails, on the other hand, will get most out of their bikes on flow- and single trails as well as pump tracks. If the bike park you visit offers a slopestyle or dirt line, you will need a special dirt jump bike.
If you have been to a mountain bike park before, you know what to do. To warm up, take the flow trail or pump track and then it is time to try out something more challenging.
A well-fitting helmet with convincing safety features is a must. 
As it is always possible that something can go wrong when trying out the limits and the risk of injury increases during jumps and technically demanding passages, we recommend additional protective equipment such as knee and shin guards, elbow guards, a back protector, a protector shirt or vest and if it gets really tough, a neck-brace.
Many bike parks also provide information on their websites about the required protective equipment.
Downhill, free riders and sometimes also enduro mountain bikers should wear a full-face helmet. It offers additional chin protection and is ideally suited for combination with goggles.
If you are a regular visitor to the bike park, you should also wear particularly sturdy MTB footwear. Special Gravity shoe models are reinforced at the toe and heel area and offer more grip on flat pedals.
To complete your MTB downhill equipment, we recommend a small bike backpack with an optional hydration system and integrated back protector. It should offer enough space for a rain jacket, a pocket tool, a pump, a tube and repair kit as well as some energy bars.
The respective track types make different demands on your suspension setup. That is why we also recommend the purchase of downhill accessories like a shock pump. 
To protect your cockpit against scratches from the drag lift bar, you can wrap handlebar tape, an old tube, etc. around it.
Style matters: cool jerseys, long sleeves and matching gloves are just as important on the trail as a fast bike. Most Gravity jerseys offer a rather casual cut, so there is enough room for protectors and pads.
Enduro & Downhill MTB Clothes – Fancy Outfits for Thrill Seekers
Style matters: Cool jerseys and long-sleeves as well as matching gloves, a safe helmet with mountain bike glasses or goggles and, of course, sturdy shoes are just as important on the trail as a fast bike. Pure Gravity jerseys offer a rather casual cut so that there is enough space for protectors and guards under the long-sleeved jersey. They are usually made of fast-drying fabrics, because the downhill wind can get very fresh. In contrast, enduro tourers who spend a whole day or several days in the saddle exploring nature trails up and downhill often opt for MTB enduro clothes like regular-cut half-zip bike jerseys or simply cotton T-shirts with cool prints. Protectors for the back or even protector shirts tend not to be used. When it comes to pants for enduro and downhill, form follows function and the functional MTB shorts and trousers are cut wide in the right places for comfort and mobility. This leaves enough room in the seat area for liner shorts with seat padding or protector shorts, for example, and knee guards can also be pulled underneath without any problems. MTB pants are usually narrower at the calves or can be gathered like the shorts. This way, nothing flaps on the descent and dangerous snagging is prevented. At best, nothing presses or rubs on the trail, and no matter what the weather, inside and out, everything stays dry. This is possible thanks to elastic functional fabrics (e.g. with membrane against dampness and wind), ventilation systems e.g. with mesh inserts, elastic cuffs and flat or offset seams. For added durability, the seat area and inner thighs are often reinforced.
Downhillers like to wear long MTB pants that taper off skinnily at the calves, even in somewhat higher temperatures. This keeps the number of abrasions from unintentional contact with the ground to a minimum and does not unnecessarily increase air resistance. Enduro mountain bikers also use Bermuda shorts in warm weather to protect knees and thighs from the sun, but also from rough surfaces such as rock faces. When it comes to protective gear, long-fingered gloves also play an important role. Even thinner models offer protection against scratches from small twigs and at the same time increase grip on handlebars and brake levers. But if you want to shred really hard trails, you should opt for MTB gloves with additional plastic reinforcements on the backhand. They often prevent worse even when hitting branches and stone edges.
Downhill MTB Accessories Must Haves – Helmets, Eyewear and Extra Stable MTB Shoes
To complete your perfect gravity outfit, you need the matching downhill accessories: a well-fitting downhill helmet with goggles and stable mtb shoes. When it comes to head protection, there is a wide spectrum among enduro riders. When trail and conditions are more moderate (e.g. tight turns, flat steps, stones the size of a cat's head), many riders opt for enduro gear like a half-shell that is pulled further down at the back of the head and sides, but still well ventilated. In the front, these open-face helmets are equipped with a longer and foldable visor. Enduro bikers wear stylish full-frame eyewear or goggles depending on their preferences. MTB-Gravity-Goggles are special single lens goggles that provide optimal protection against dust as well as dirt, splash water and drafts. In addition, they can be cleaned more easily and can also be combined with a tear-off magazine for racing use. If the terrain gets rougher or you want to ride the jumpy and droopy downhill lines in the bike park, a full-face helmet is probably the better solution. They offer strong all-round protection but are less suitable for touring due to the lack of ventilation. If you want to have your cake and eating it too, a modular full-face helmet can be the perfect compromise. Before riding flow trails or for transfers, you simply put the chin bar in the backpack and when the difficulty increases, you mount it on the helmet again. If you ride in steep terrain with a full-face helmet, you should always combine it with MTB goggles. Together, helmet and goggle provide ideal protection for your face. As the goggle is connected to the helmet via the strap, it is also easier to put on and take off. In rain and wet conditions, the face and eyes are protected from too much mud.
High on the hog: Just as enduro and downhill bikes, apparel and protective gear are more robust, MTB shoes for Gravity should also be developed for durability and protection. This can be achieved by using either low shoes or ankle shoes for more safety. The outsole should be tuned for a particularly large contact surface between flat pedals or clipless pedals with a large cage. This is usually achieved on the available shoe models for Enduro and Downhill by a good layer of rubber with a negative or grippy lug profile. Shoe soles for clipless pedals usually have a special guide in the cleat area to facilitate entry and exit despite the bombproof connection. The front and rear edges of the sole should be chamfered for more comfort when walking. Further up, the heel and toe box on a good Gravity shoe are reinforced for protection. At best, the midfoot is supported by a large, padded shoe tongue. Most shoes have a hook and loop fastener that additionally secures the shoe to the midfoot or ankle. But the inside of a suitable MTB shoe must also be adapted to the hard style of riding. For this purpose, complex midsole systems are used, which absorb shocks and give the shoe stiffness.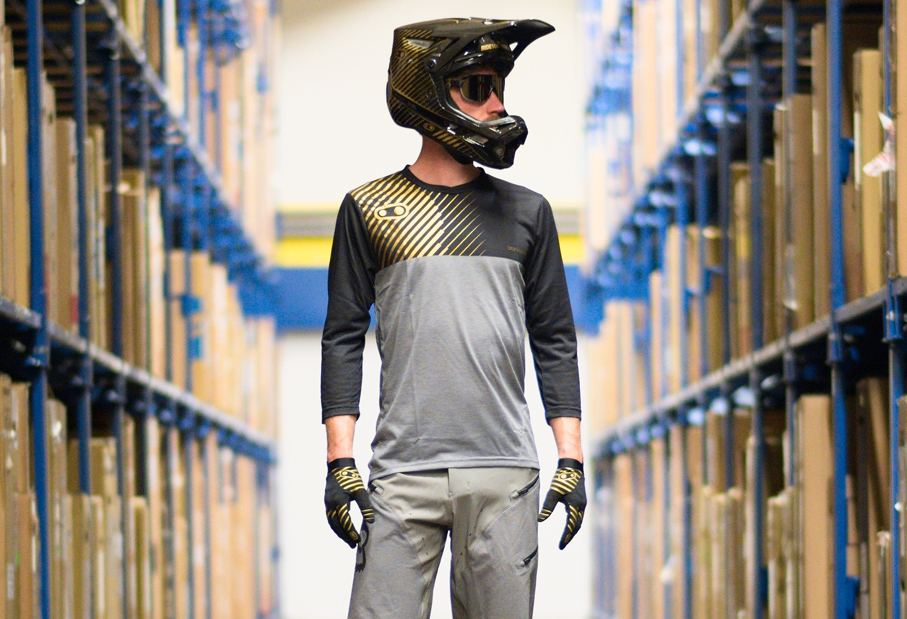 Enduro vs. Downhill
Enduro is a serious type of gravity MTB riding that has become increasingly popular in recent years. One of the reasons for this is the versatility of the mountain bikes and the equipment, which is also urgently needed on real Enduro trails. An Enduro trail is a combination of challenging uphill and steep downhill sections peppered with jumps, drops and other obstacles. The terrain is additionally blocked with stones or exposed and riddled with roots. For this reason, Enduro-Gravity riders should have a sophisticated riding technique, a good physical condition and lots of courage.
The benchmark in terms of riding skills and therefore the hardest MTB gravity discipline is downhill. The courses have a continuous steep gradient and are additionally interspersed with very high jumps, so-called big hits, drops, gaps, e.g. road gaps, tables, steep berms, rock gardens, root beds and more. Rider and equipment have to withstand extreme forces, which is why a dh bike and matchingprotective equipment such as a full-face helmet and protectors are strongly recommended.
What Makes an Enduro Bike?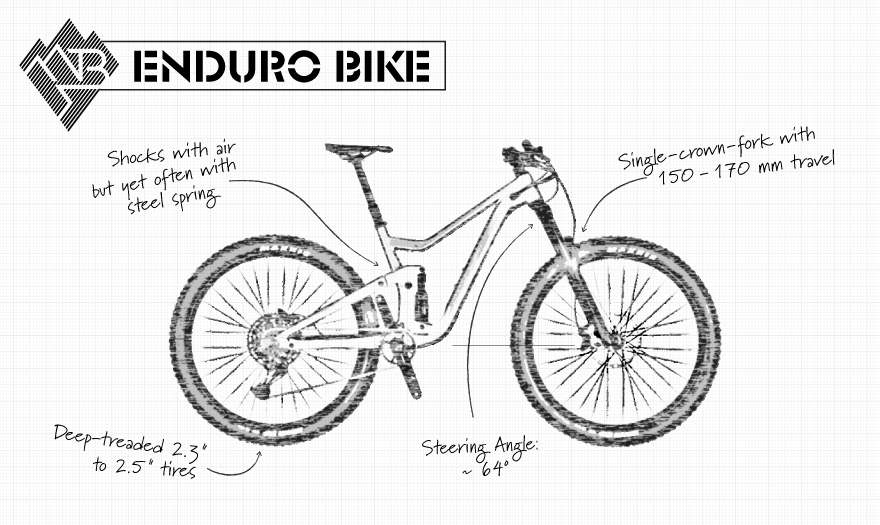 When it comes to demanding trail shredding with a lot of gravity, an Enduro bike has to be able to take a lot of punishment. Such stable mountain bikes, made of aluminium or extra-light carbon, are usually fully suspended and feature about 150 – 170 mm of suspension travel at the front and about 140 mm at the rear (usable suspension travel depends on the rear link system). The necessary propulsion is often provided by 1x11-12-speed drivetrains with an especially high cassette range, so that you can climb the summit under your own power. Another feature, which is extremely popular, are height-adjustable Dropper seat posts. They allow you to pedal comfortably and simultaneously provide enough leg space for downhill riding.
What else is important for the descent? Powerful brakes of course – many Gravity Enduro bikes rely on four-piston disc brakes in combination with 200 mm brake discs at the front and 180 mm at the rear. 
To ensure that both acceleration and braking are optimally transferred to the ground and even high drops can be performed, Enduro bikes offer wide and strong 27.5" (650B) or 29" wheels.
These roll on high-volume tires with a neat spike-lug tread and a reinforced carcass.
Despite these impressive performance features, Enduro MTB 's often achieve a relatively low weight of around 14 kilograms. This means they are still easy to pedal uphill, agile on flat terrain and, when riding downhill with trail contact, already similar to a freeride or downhill bike.
What Is a Downhill Mountain Bike?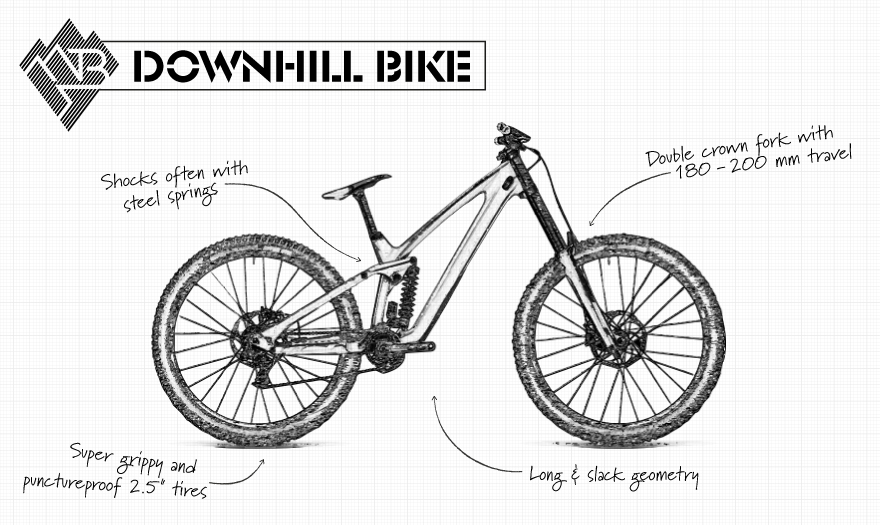 As amazing as the downhill mountain biking action and high speeds on downhills are, the mountain bikes used today look just as incredible.
Frame and construction are extremely stable for high, long jumps or hard rock gardens. When looking at the geometry data – including a particularly steep seat and headtube angles – it quickly becomes clear that these full-suspension gravity bikes are 100% designed for high-speed downhill mountain biking.
The course is packed with riders, wall rides, extreme jumps and drops. To master the forces that occur, you need a lot of suspension travel. At the front wheel, downhill bikes usually have up to 200 mm and at the rear wheel at least 190 mm. Whereby the stroke at the rear depends mainly on the combination of the used rear shock and rear suspension kinematics of the frame.
With an average gradient of 20%, as for example on the DH track in Leogang, a high gear ratio is not necessary. The mostly 1x7-10-speed derailleur systems are equipped with small stepped cassettes and designed for durability.
To ensure that you can stop reliably even in the most extreme gravity mountain biking discipline, downhill bicycles are equipped with particularly powerful 4-piston disc brakes and a brake discs diameter of at least 200 mm. On modern DH mountain bikes power and acceleration are transferred by extremely strong 27.5" or 29" wheels made of aluminium or carbon. These wheels are often fitted with knobby treaded tires with specially reinforced carcasses for stability and durability.
Gravity bikes for downhill use allow high speed on technically demanding trails and long jumps with lots of airtime. Riding uphill is only possible to a very limited extent due to the low gear ratio and the weight often exceeding 16 kg.
Enduro and Downhill E-Bike – So You Don't Need a Lift
Which MTB rider has not ever faced this: You are climbing an uphill with your enduro MTB with maximum effort and think: I'm about to get off. Only a few moments later, thanks to the adrenaline kick and flow, everything is forgotten. Or on a warm summer day, the lift queue in the bike park reaches all the way to the car park – then it is often time to drive back home. How about MTB's that can go uphill almost as fast and downhill as easily as a very light motocross bike? Full suspension e-mountain bikes for enduro and downhill can offer just that. And that is not all: they can still be ridden at almost any ages all year round – mountainbike park riding even in winter 😉. E-enduro MTB's make demanding mountain trips and e-downhill bikes make freeride trips attractive (again), especially for technically skilled but less physically fit riders. Electric enduro bike are also becoming increasingly popular in general, as they have enough potential for most ride styles and can still assist you on quite long tours with electric motor support. Of course, all models are featuring full suspension with a shock at the rear. A positive side effect of the high total weight (20 kg and more): Thanks to the increase of the sprung mass and slack geometry, these e-bikes always keep ground contact and roll particularly smoothly and quietly on the trail when downhill. The rider can concentrate more effortlessly on steering and braking. All high-quality E-MTBs currently use the mid-drive concept, which has a positive effect on the bikes' balance during airtime. In addition, the front wheel does not rise uncontrollably on uphill sections. The motors convince with peak outputs of up to 800 watts and support you permanently with 250 watts.  
MTB Parts to Shred Even Harder
With giant drops and even higher jumps in extreme cases, all MTB components on enduro and downhill bikes must be particularly solid. But it is also the massive and bulky appearance that makes gravity MTBs so appealing to many riders. The brakes also have to deliver brute power without fading on long descents. This makes for higher weights. Super-fit enduro riders grit their teeth in such a case and push up the hill or even walk a few meters if necessary. However, this can be really nerve-wracking on longer rides. You ask yourself: What are they telling me this for, I ride downhill and up we go with the lift! Yes, you might think that for downhill, thanks to gravity, it does not really matter how heavy the bike is. But the question is: how is the mass distributed and how effectively does the suspension work?
Suspension Fork and Rear Shock
Suspension upgrades are interesting for Downhill and Enduro mountain biking to better dampen the bulk of the mass, the sprung mass. For this purpose, high-quality suspension forks and shocks are precisely adjustable. They usually offer, for example, separately adjustable high-speed and low-speed compression and rebound damping (fast and slow compression and rebound), but also lower-friction damping and spring components. Suspension parts for Enduro MTBs in the high-end range usually still have a pro-pedal compression damping or platform setting for less energy loss on long uphills and transfers. The suspension element is either air for less weight and quick adjustment or steel springs for maximum durability and an extra linear suspension feel. Dual-Crown forks, the standard on dh bikes, are also available "travel reduced" (170 – 180 mm) for aggressive enduro mountain biking, which is a stronger alternative for trails with bigger drops and jumps. But the rear suspension can also be improved with a new rear shock. A current air shock for DH and Enduro is still relatively light compared to steel and offers many external adjustment options for on-trail changes. But that's not all: real tuners can also optimise the internal setup – keyword: shim stack. Use a steel spring shock if you want a particularly durable and low-maintenance version for hardcore terrain.  With progressive lightweight springs, however, you can also easily improve the performance of a coil shock. Depending on the riding style or rider weight, a piggyback shock model (with oil reservoir) is recommended so that the oil in the damping circuit can flow quickly and without foaming (overheating).
Super-strong Wheels
As with all MTBs, the rotating mass of the wheels is also interesting for DH and Enduro. It can be reduced with aluminium and especially with wheels with carbon rims. In terms of wheel size, 27.5" have established themselves, but 29" are also becoming more interesting depending on the frame and fork, rider size and trails. They allow for a larger tire contact area, higher traction and yet better rollover characteristics. Carbon rims are no longer a rarity in gravity sports either, but aluminium also forms a solid basis. Common rim widths are around 30 mm. The wheels are usually equipped with higher flange hubs and 32 spokes front and rear as standard to optimise the spoke angles for lateral stiffness. It is also important that the new wheels fit the bike. The forks and frames of currently available Enduro MTBs are usually compatible with 15x110 mm thru axles at the front and 12x148 mm thru axles at the rear, on bikes for downhill it is 20x110 mm / 12x148 mm Boost or 20x110 mm Boost and 12x157 mm. The wheels are tubeless-ready. And what else do you need for tubeless – the right tires!
The Tires of Downhill and Enduro MTB's
Compared to the other MTB disciplines, at up to 2.6", these tires are of course wider and equipped with a much more striking knobby tread. In addition to different sizes, special versions are also available, e.g. for hard surfaces with lots of loose stones or mud and wet conditions. It is also common on Gravity MTBs to use different tires, e.g. a lighter model at the front, optimised for grip in turns as well as on off-chamber sections, and a centre tread to bring the braking power optimally to the ground. As a counterpart, an easier rolling tire with better puncture and pinch-flat protection can be mounted on the rim at the rear. Specialists also use knob cutters and create their own profiles. In terms of construction, the range is very wide. At the one hand there are relatively lightweight, foldable tubeless versions with rather less sidewall or puncture protection, and on the other hand there are super-stable but also heavy wire bead tires with massively reinforced sidewalls. But, since the tires also have to absorb shocks and, at low pressure, they no longer offer enough puncture protection despite all reinforcements, tire inserts or multi-chamber air systems are often necessary to prevent flats.
Powerful Brakes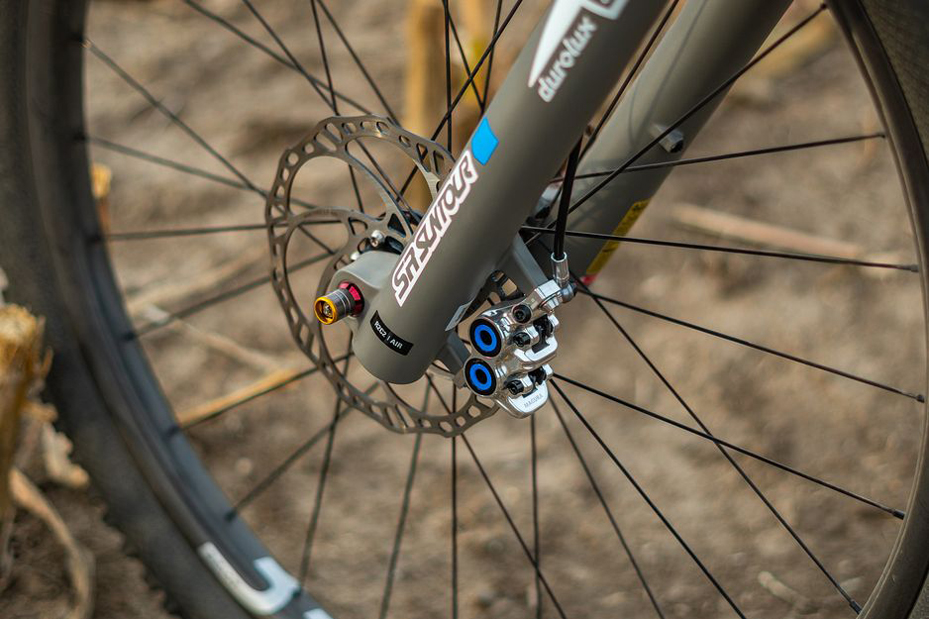 Despite all the lightweight construction measures, a modern downhill bike even with a carbon main frame weighs around 16 kg. This and the mass of the rider must also be decelerated before the tight turns or even switchbacks. If your brakes are too weak, you should check whether at least 200 mm brake discs are installed at the front and rear. If the braking power is still not enough, you can use 220 mm discs as a last resort. On downhill bikes, 4-piston disc brakes are standard, but on Enduro bikes sometimes only 2-piston brake systems are installed. By upgrading to 4 pistons, you can improve the braking performance quite a lot. A completely new brake system can also be interesting, as these usually have better heat dissipation and thus greater fading resistance thanks to aluminium machining and optimised brake pads. The higher-quality brake systems also usually offer ample adjustment options on the brake lever.
The Cockpit
Finally, we focus on optimising the cockpit. Modern CNC machined aluminium stems are lighter and can be shorter and stiffer in combination with wide handlebars. New models often offer wider handlebar support even in the direct-mount versions and are increasingly clamping on 35 mm diameter for increased strength. In combination with the up to 800 mm wide, "flexible" handlebars, this results in a high level of strength without too much stiffness, which leads to a more joint-friendly "comfort". Higher strength and flexibility are possible thanks to the optimised tube wall thicknesses. This can be achieved even better with carbon than with aluminium due to the orientation of the fibres.