LOOK - Clipless Bicycle Pedals and Accessories for Optimal Power Transmission
As the inventor of the clipless pedal, LOOK is one of the most crucial companies in the bicycle industry. Founded in 1951 by Jean Beyl in Nevers, France, LOOK first revolutionized the ski market by developing ski bindings. Jean Beyl's father, Alfred Beyl, was a successful track cyclist who gave inspiration to apply this technology to bicycle pedals as well. The click pedal was born in 1984 and just one year later Bernard Hinault won the Tour de France with it. Nowadays LOOK offers clipless pedal systems for road bikes, MTB's and many other types of bicycles.
Read more
Welcome to Look! Where Passion for Cycling Is Deeply Rooted in DNA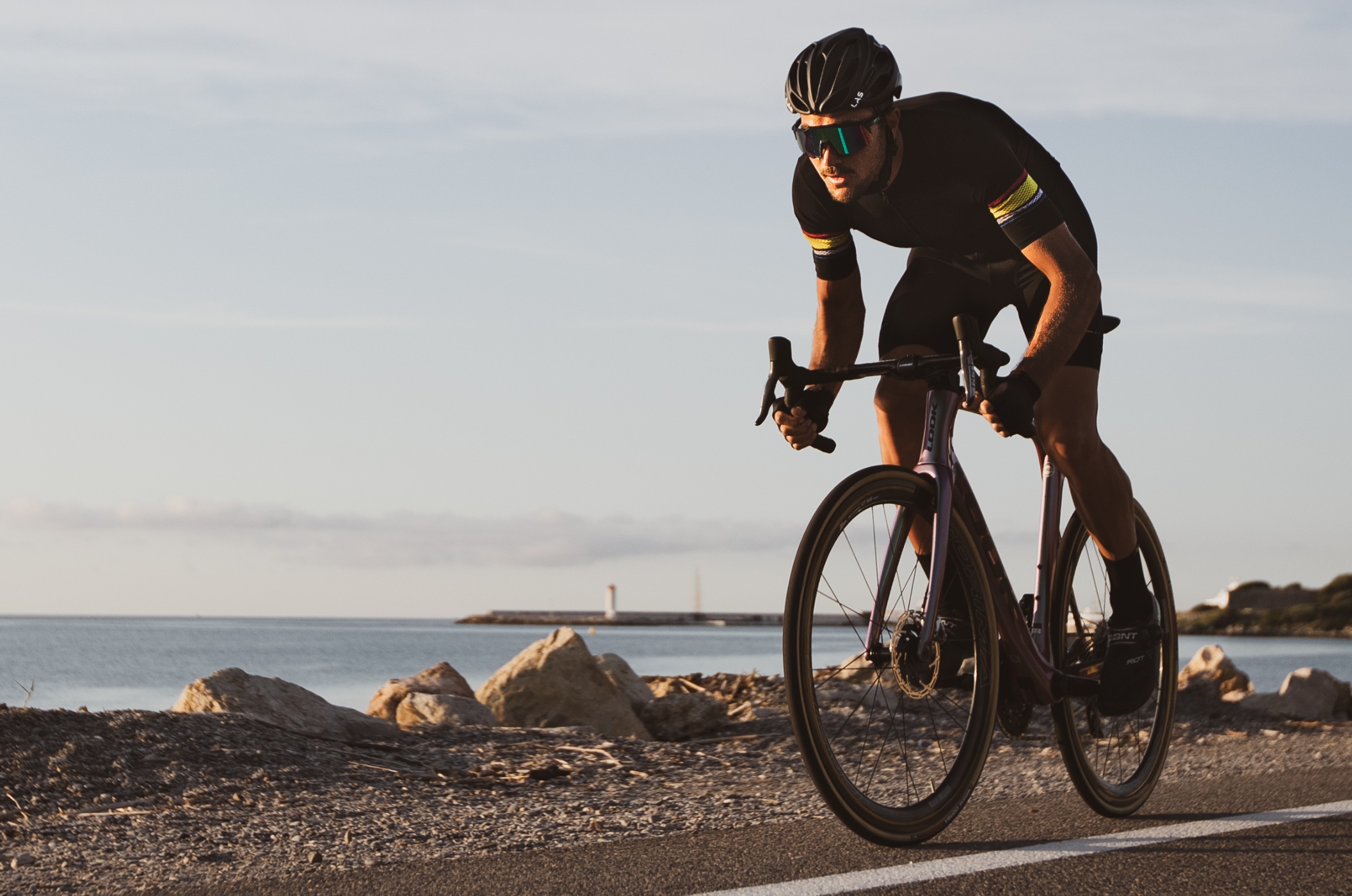 Pedals for Road Bikes: LOOK KÉO
As the inventor of the road bike system pedal, LOOK can boast a wealth of experience. The road bike clipless pedal range has been continuously refined and improved. In 2004 the Kéo replaced the proven Delta road bike pedal and still gives beginner and amateur racing bikes as well as professional racing bikes that certain something.
If you are looking for something really special, LOOK offers pedals in a limited TdF edition.
The hobby cyclist will appreciate the LOOK Kéo Classic, which scores with comfort, durability and efficiency. They are equipped with a durable and reliable steel axle and in the Plus version, for even more longevity, with a stainless-steel contact surface.
Can it be a little more exclusive? Somewhat lighter? Maybe even carbon? Then the Kéo 2 Max pedal is the right one to help you push your limits - it's available with a composite or carbon pedal body and the latest version has an enlarged contact area for improved power transmission and comfort. The axle has also been optimized to deliver better load distribution, reduced friction and increased smoothness.
When it comes to being the first to cross the finish line, there is no way around the Kéo Blade, which has been reworked time and again with input from the pros. All Blade models use an innovative carbon leaf spring instead of a conventional metal spring. This ensures a firmer hold and faster click-out. The optimal integration of the leaf spring into the pedal body enables a more aerodynamic design of the entire pedal as well as a lower weight and better mass distribution. The Premium clipless pedal system is available in 3 versions. The entry-level model convinces with robustness thanks to chromoly axles and stainless-steel bearings, the Blade Carbon Ceramic mid-range model additionally features particularly smooth-running and durable ceramic bearings. Top of the line is the Keo Carbon Blade Carbon TI Ceramic, which is equipped with ceramic bearings and titanium axles for a particularly low weight.
How can you improve the LOOK clipless road bike pedals even further? In cooperation with the power meter specialist SRM, the developers have found an answer to this question: clipless pedals with integrated powermeter. This exciting technical innovation is called EXAKT and adapts the pedal body design of the Keo Blade Carbon. With only +/- 1.5% measurement deviation the name says it all. It is optionally available as a single or dual version with additional power balance measurement.
Kéo pedal cleats are compatible with all standard 3-hole road shoes. You can choose between plates with 0° (black), 4.5° (grey) or 9° (red) freedom of movement. Kéo GRIP Cleats are equipped with non-slip rubber attachments that offer more safety when running.
Pedals for Mountain Biking: LOOK X-TRACK
LOOK has optimized the interaction of contact surface, weight and entry/exit for the X-TRACK series. The pedals offer an outstanding power-to-weight ratio - the larger the contact surface, the more efficiently power can be transmitted. But the higher the weight, too. LOOKS engineers have been able to identify the zones that are useful for power transmission, optimize them and, on the other hand, remove unnecessary areas.
In addition, the X-TRACK pedal makes it incredibly easy for the rider to find the entry position. A lateral contact zone makes it easier for the foot to "find" the pedal and prevents the foot from slipping off the pedal. The click mechanism is designed to be large enough to work regardless of external conditions. Mud? Sand? It doesn't matter - the pedal has great self-cleaning properties.
For cross-country and gravel bikers, LOOK has the X-TRACK and X-TRACK Race pedals, while trail and enduro riders will find the X-TRACK EN-RAGE pedal with even greater contact area and pins for maximum grip. All pedals are fully SPD compatible and available in different versions - with composite or carbon body, steel or titanium axle.
LOOK X-TRACK pedal plates are compatible with all current shoes with 2-hole soles. The Easy Cleats are also particularly beginner-friendly, as they allow both horizontal and vertical entry and exit.
Clipless Pedals for Trekking, Commuting and E-Bikes: LOOK Geo-Trekking
Now commuters, trekking explorers and urban e-bike riders can also benefit from the strong connection between shoe and pedal using the LOOK clipless system. Thanks to the well-designed hybrid construction - one side platform, the other with SPD-compatible clipping mechanism - you will always reach your destination even without shoes featuring cleat mounts and dangerous situations at traffic lights do not even have to arise. The delivery of the Geo-Trekking pedals naturally includes the LOOK EASY-Cleats. These pedal cleats allow up to 30% easier clip-in and a multidirectional exit.