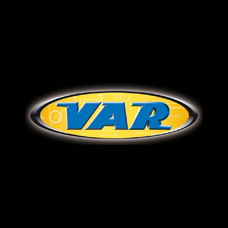 VAR - Tools for Every Problem
VAR is a French company that specialises in the manufacture of quality bike tools. VAR's bicycle tools catalogue ranges widely, and includes the popular VAR Tire Lever, as well as screwdrivers, headset wrenches, hacksaws, crank extractors, hangers, tube deburrers, callipers, mounting tools, tube cutters, degreasers, chain link pliers and chain cleaners. So if you need accessories, VAR has a solution for you.
Read more
VAR Tire Levers
Many wheel manufacturers have made it nearly impossible to remove bike tires without a set of levers, making these tools extremely useful. VAR are market leaders in manufacturing levers, and offer a variety of models. For instance, you'll find simple polyamide VAR Tire Levers that are handy for tight beaded tires or rims which are slightly oversized. These levers have an anti-slip structure, are safe to use and minimise damage to the bike's wheelset. But there's also the VAR Professional Tire Lever. With its forged steel construction, it's ideal for downhill and off-road cycling.   
The World-Class VAR Wheel Truing Stand
A wheel truing stand is a multipurpose tool that is meant to ensure seamless and efficient repair, providing a place to carry out all types of wheelset repair. The VAR truing stand is unique in that:
The high-precision CNC machined parts make the stand firm and rigid for ease of repair.
It allows for a smoother, more versatile, and stiffer repair than any other truing stand.
It has a removable nylon calliper that tips to avoid scratching the rim during the repair.
It has a quick-release adjustment lever and brass slide bushings that allow quick wheel installation.
Other VAR Bicycle Tools and Their Function
Being a leader in bicycle repair tools VAR also manufactures other tools, such as the:
VAR screwdriver: The tip is magnetised to ease the work on hard-to-reach screws. It is well-shaped and provides a good anti-slip grip, ensuring maximum tip torque and excellent user comfort.
VAR hacksaw: It is recommended for tube cutting. The blade can easily be removed, and when coupled with the convenient elastomer handle, the repair process becomes very comfortable.
VAR tube deburrer is recommended for reaming the inside and outside tubing edges through clockwise and counterclockwise rotations.
VAR headset wrench: These wrenches come in all sizes and are specific for headsets of that size. The jaws are precision cut for proper fitting when adjusting, fitting and removing headsets.
VAR Components for Bike Maintenance and Care
Other VAR components include maintenance products meant to keep your bike in optimum condition, like the VAR releasing oil, VAR brake cleaner, and VAR grease. Releasing oil is used to remove moving parts and lubricate them to ease corroded components' disassembly. It leaves a thin oily layer that protects the metallic part from moisture and corrosion. On the other hand, VAR grease is a water-repellent with an excellent friction coefficient that increases ball-bearing lifetime. Additionally, it can be used to grease hubs, stems, and handlebars. VAR degreaser removes the lubricants and grease by dissolving them from the drivetrain parts and chain. The degreasing of the drivetrain is necessary to provide complete lubrication and efficiency when applying a new lubricant or greaser. Similarly, the VAR brake cleaner removes grease from aluminium rims providing enhanced braking efficiency.
In conclusion, the VAR bike components are high-quality and efficient, ensuring that your bike is well repaired and in top condition. VAR levers make your work much easier when repairing a puncture. VAR wheel truing stands allow you to fix wheels in place for important maintenance. And a range of lubricants and greasers are all essential parts of bicycle repair kits. So pick up the repair tools you need from the BIKE24 VAR brand shop or browse our other repair tools to stock up for any emergency.