ASICS Running Shoes − As Fast as a Tiger
ASICS was founded in 1949 by Kihachiro Onitsuka in Kobe, Japan, and was initially called the Onitsuka Tiger. The first sports shoe from ASICS was a basketball shoe. However, the special focus on technologically adept running shoes quickly followed. But the brand name didn't change until 1977. The letters are an acronym of the Latin saying Anima sana in corpore sano – in translation: a sound mind in sound body. The famous trademark Tiger Stripes on the ASICS running shoes give a nod to the original name and heritage.
Read more
Running Shoes from ASICS − Innovative High-Tech
Since Kihachiro Onitsuka founded the company, the focus has been on improving athletic performance through technological research. This vision finally led to the development of the legendary gel cushioning in 1987, which produced a whole new generation of running shoes. Thanks to this technological innovation, ASICS has long been one of the largest and most popular manufacturers of running shoes worldwide.
By continuously improving the technology, it now offers a wide range of high-tech running shoes. So whether you're a novice runner or someone more experienced, you're sure to find a model that suits you. Among the running professionals, ASICS is as widely used as its competitors Nike or Adidas.
The ASICS Gel Cushion Especially for Your Comfort and Protection
The renowned gel technology ensures an intelligent form of cushioning. Depending on the model, the gel is strategically used in different ways. When used as cushioning on the heel, it reduces the impact energy and acts as a shock absorber. In this way, it allows you to roll gently through your feet while running. Gel cushioning is also available in the front area to protect the forefoot and optimise the running movement. Heel and forefoot gel cushioning differ in their structure, but together form a functional unit. In this way, the gel technology offers the popular comfort while running, which also has a positive effect on your performance.
ASICS Running Shoes for Women and Men – The Right Model for Everyone
You will find a whole arsenal of different ASICS running shoes for women, all of which have their own special advantages, be it comfort, convenience or durability. Your individual running style and your running habits play a decisive role in making the right choice. A large selection of ASICS running shoes for men are also up to the test. The models are classified by the manufacturer according to the degree of support they offer when running:
Cushioning stands for the least support, recommended for supinators and neutral runners
Maximum Support stands for medium support, recommended for strong overpronators
Structured cushioning stands for the most support, recommended for light overpronators with little natural hold
In their range you'll find both stability running shoes for runners with overpronation as well as neutral running shoes. There are also special running shoes that pay particular attention to speed – practical racing shoes or racing flats with very little padding or weight. There's also the fashionable SportStyle collection, which offers famous models for everyday life.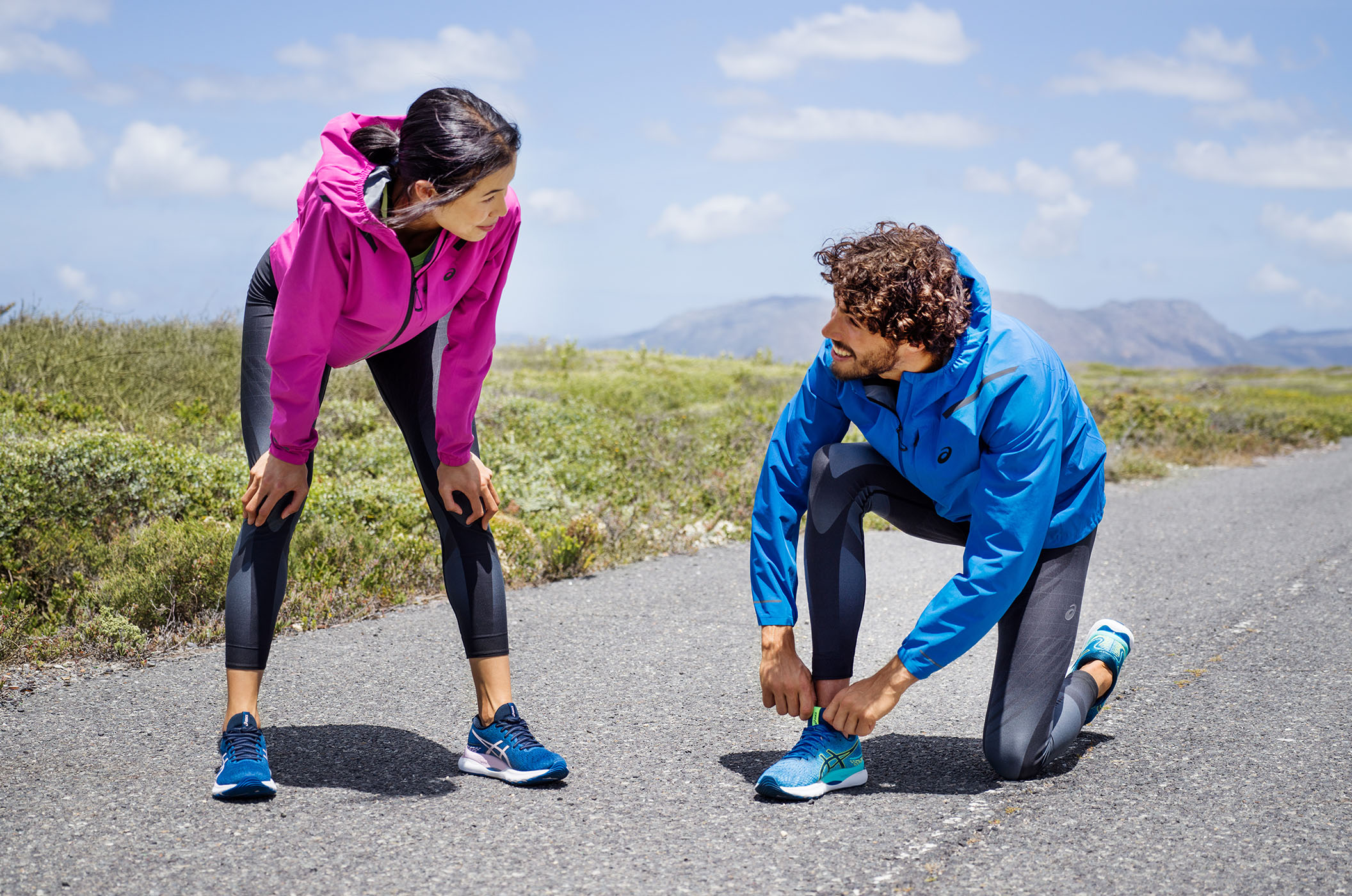 ASICS Gel Sneakers to Suit All Tastes
ASICS Gel Kayano running shoes have been around since 1993, making them one of the brand's absolute classics. These include the famous Kayano 26 which are very popular with their resilient, reactive and at the same time stabilising cushioning.
The ASICS Gel Nimbus series primarily includes well-cushioned neutral shoes that are intended for long-distance runners. They have a wide fit in the forefoot area and are equipped with FLYTEFOAM Propel technology, which ensures a special propulsion and improved shock absorption.
ASICS Gel Cumulus running shoes usually have a lot of cushioning in both the heel and forefoot areas. They are well suited for supinators, as they have a particularly great shock-absorbing effect.
You will also find models from the brand with a Gore-Tex membrane for bad weather. You can also find matching running jackets and running vests for bad weather as well as running shirts for your workout in warmer temperatures here at BIKE24.